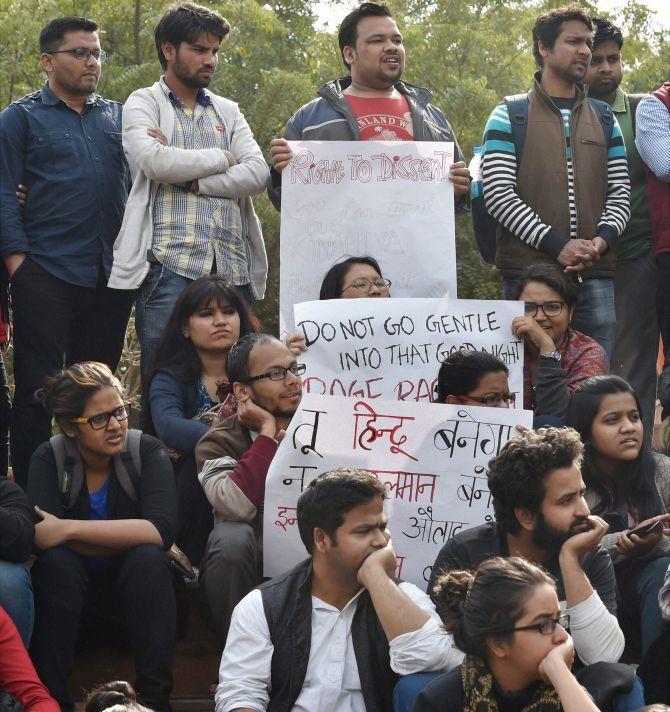 Vishwa Hindu Parishad and Bajrang Dal activists on Tuesday staged a protest outside Jawaharlal Nehru University against an event on the campus in support of Parliament attack convict Afzal Guru.
They shouted slogans and burnt effigies of the JNU vice-chancellor demanding action against the alleged anti-nationals.
However, the protesters were not allowed to march inside the campus by university security and police force deployed outside the university.
The Bajrang Dal protesters also demanded that the vice chancellor take action against the teachers who are supporting the agitation of left-leaning students.
Meanwhile, protests inside the campus by students and teachers against the varsity administration continued with teachers joining them in boycotting the classes.
JNU students union president Kanhaiya Kumar was arrested last week in connection with a case of sedition and criminal conspiracy registered over holding of the event at the varsity during which anti-India slogans were alleged to have been raised.
His arrest has triggered widespread outrage among students and teachers and drew severe criticism from non-Bharatiya Janata Party political parties.
Earlier in the day, JNU teachers joined the students in boycotting classes in protest against arrest of its student union leader in a sedition case and said they would take classes on "nationalism" in the varsity lawns.
The students had on Monday gone on an indefinite strike till JNUSU president Kanhaiya is released and the sedition case against him dropped.
Over 400 academicians from international varsities, including Columbia, Yale, Harvard, Cambridge, Oxford, SOAS, University of Toronto, McGill, King's College, University of California, Berkeley and New York University have also expressed solidarity with JNU students condemning the "illegal" detention and "autocratic" suspension of students.
A joint statement signed by 455 academicians from global universities, said, "JNU stands for a vital imagination of the space of the university -- an imagination that embraces critical thinking, democratic dissent, student activism, and the plurality of political beliefs. It is this critical imagination that the current establishment seeks to destroy. And we know that this is not a problem for India alone".
"Similar attacks on critical dissent and university spaces are being attempted and resisted across the world. An open, tolerant, and democratic society is inextricably linked to critical thought and expression cultivated by universities in India and abroad.
"As teachers, students, and scholars across the world, we are watching with extreme concern the situation unfolding at JNU and refuse to remain silent as our colleagues (students, staff, and faculty) resist the illegal detention and autocratic suspension of students," said the academicians, some of which are JNU alumni.
Image: Students protest against the police crackdown and the arrest of students' union president Kanhaiya Kumar. Photograph: PTI