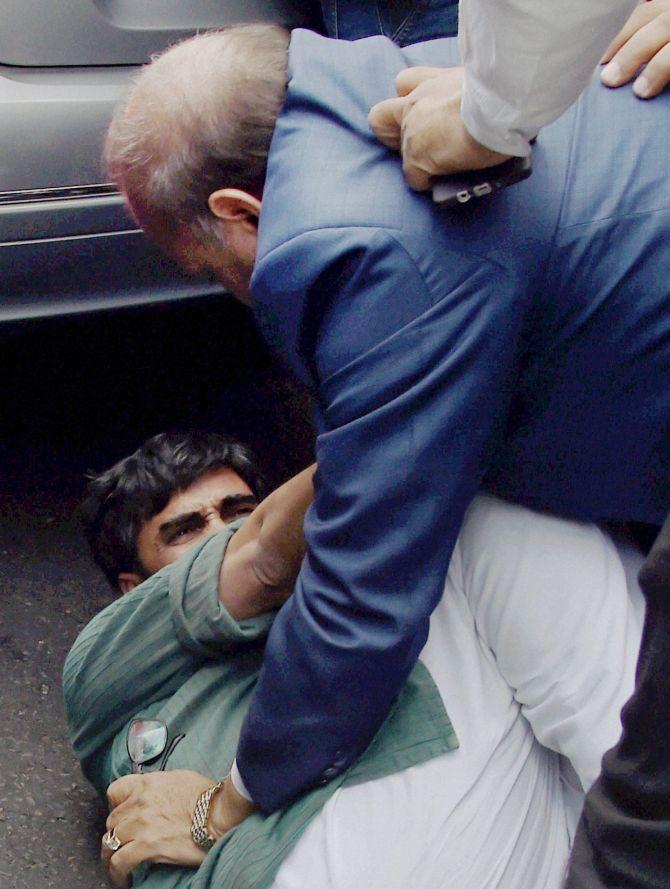 BJP's OP Sharma attacking a JNU student outside the court complex on Monday. Later, he defended his actions, saying he would not stand by while people spoke ill of his country. Photograph: PTI
On Monday, Bharatiya Janata Party's Delhi legislator Om Prakash Sharma allegedly attacked a Jawaharlal Nehru University student at a city court. When asked about the scuffle, the MLA from Vishwas Nagar in Delhi said, "Mein goli bhi maar deta agar bandook hoti. Koi hamari Ma ko gaali dega to kya usey maaroge nahin (I would have opened fire if I had a gun. If someone abuses our mother, won't I beat him up)."
However, this is not the first time that OP Sharma has been embroiled in a controversy.
The MLA who flaunts his proximity to Union Finance Minister Arun Jaitley has also been suspended from the Delhi assembly last November for his derogatory remarks against Aam Aadmi Party legislator Alka Lamba. In November last year, he had in the assembly called AAP MLA Alka Lamba things like 'baazaaru aurat' and somebody who roams around all night.
The Vishwas Nagar legislator had also attacked Lamba in August last year, calling her a drug addict, after she was assaulted while she was carrying out an anti-drugs drive.
Sharma had also referred to Delhi Chief Minister Arvind Kejriwal as 'Raavan'.
That's not all. On the last day of the budget session of Delhi assembly, an angry Sharma broke the mike at his table after speaker Ram Niwas Goel ordered his mike to be switched off.