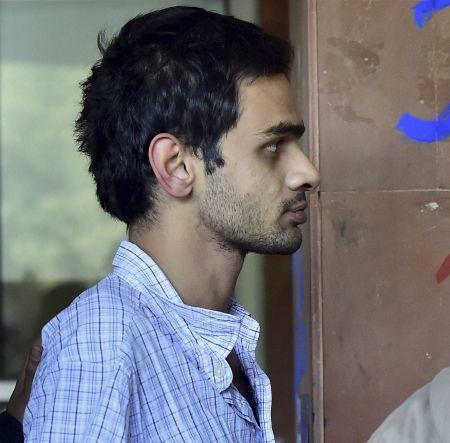 Jawaharlal Nehru University students Umar Khalid and Anirban Bhattacharya on Monday said the decision to rusticate them from the varsity was "unacceptable" and termed as "farce" the inquiry by a high-level committee even as the students' union threatened a countrywide campaign on the matter.
In his reaction, JNU students' union president Kanhaiya Kumar, who has been slapped with a fine of Rs 10,000 by the varsity administration, said the punitive action handed down on the basis of a "farcical" probe was "simply unacceptable" and that the Union rejects it.
"The JNUSU rejects the punishment handed down by the administration on the basis of a farcical committee!" Kanhaiya tweeted.
Terming the decision against them as "unacceptable", Anirban and Umar alleged the authority's action amounted to a "witch-hunt" under the "diktats" of Rashtriya Swayamsevak Sangh.
"The JNU administration declares its allegiance to the RSS, once again! After allowing police to enter campus to unleash the worst repression...now the JNU admin has come down with its own list of punishments.
"A farce is what this inquiry has been from day one, made to witch-hunt and punish students by hook or crook. Do we need to remind you, Mr Jagdish Kumar (JNU VC) that unlike you the students and teachers of this campus are not pliant stooges of the RSS," Umar posted on Facebook.
He said HyderabadCentralUniversity's deceased Dalit student Rohith Vemula was their "inspiration", urging the students for a "fight back".
JNUSU vice president Shehla Rashid Shora said, "We will launch a countrywide campaign to expose this government's anti-student, anti-Dalit character."
Shehla said the action against the students was based on "sheer vendetta and a biased inquiry" and "one-sided" statements from Akhil Bharatiya Vidyarthi Parishad members.
"The VC is taking directions from the Central govt. He should have acted first as an academician and then as an RSS loyalist. Rakesh Bhatnagar, the head of the committee, is the treasurer of anti-reservationist Youth for Equality, and most students who have been punished belong to Dalit, Muslim and backward castes," she said.
The JNU on Monday slapped a fine of Rs 10,000 on JNUSU president Kumar and rusticated PhD scholars Umar and Anirban for varying duration in connection with the controversial February 9 event for which they were charged with sedition, an action which had triggered widespread outrage and protests.
Based on the findings of a committee, Umar has been rusticated for one semester and slapped with a fine of Rs 20,000, Anirban has been rusticated till July 15.
IMAGE: Umar Khalid