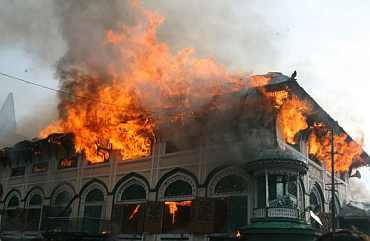 The Jammu and Kashmir police arrested a Lashker-e-Tayiba terror module comprising six persons who were tasked to burn down religious shrines, raising suspicion that the famous Dastageer Saheb shrine could have been set on fire by the same group.
Police in Budgam district arrested 6 people, including Farooq Ahmed Mir who had travelled to Pakistan's Faisalabad in early 2012.
Mir, whose confessional statement has been recorded before a chief judicial magistrate, has stated that he had gone to Pakistan and the travel was facilitated by Zahoor Ahmed of Arth of Budgam district in central Kashmir.
The others arrested were Zahoor alias Zubair, Barkat alias Abu Talah, Ejaj Ahmed alias Imran, Abdullah Dar alias Assad and Rauf Dar alias Rafiq.
With the arrest of six people, police claimed to have cracked three cases -- burning of two shrines, including that of Baba Hanifuddin, on July 15 this year and a mosque.
Mir said in his statement before the judge that he had met some Lashker terrorists in Faislabad who tried to lure him to work for the terror group.
The Lashkar terrorists, one of whom he identified during interrogation as 'Waleed', wanted to start an agitation similar to that in 2010 and to burn mosques and shrines in the Valley to create unrest and asked Mir to meet Zahoor on his return for further tasking, the confessional statement said.
Mir, who has appeared in exams and was awaiting results, claimed he had never been part of the group that had indulged in burning of shrines.
However, on his tip-off, five others were arrested who were being interrogated, the sources said.
Dastgeer Sahib shrine, a 250-year-old wooden landmark dedicated to 11th-century Sufi saint Sheikh Abdul Qadir Geelani, was gutted on June 26.

Image: The Dastageer Sahib shrine on fire