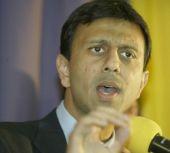 Indian American politician Bobby Jindal, who is perceived to be the Republican Party's potential future presidential candidate, is expected to head the party's governor's body next year.
Jindal, 41, who was re-elected Louisiana governor, last year will take over next year and succeed current Republican Governor's Association chairman Bob McDonnell of Virginia.
New Jersey Governor Chris Christie another potential Republican presidential candidate, will assume the post the following year.
The move gives both up-and-comers prominent leadership roles in the Republican Party and access to a national network of conservative donors, laying the groundwork for possible presidential bids in 2016 if Mitt Romney were to lose in November.
Both Jindal and Christie are potential presidential candidates in 2016.
The new role will keep Jindal -- the potential future presidential candidate -- in the public eye, Times-Picayune reported.
"Jindal would then serve as Christie's vice-chair for the 2014 cycle, when the RGA will have a slew of high-profile seats to defend in states like Ohio, Wisconsin, Pennsylvania, Michigan and Florida," said CNN.
The Republicans Governors Association are yet to vote on this tentative arrangement at their fall meeting in Las Vegas in November, the news channel said.
However, Christie's re-election bid next year called for changes in the previous arrangement.
"The natural line of succession at the RGA was complicated by Christie's all-but-certain re-election bid next year. Christie were to serve as chairman while simultaneously running for governor, he would be forced to recuse himself from key RGA decisions about spending and strategy," CNN said.
"That bad timing forced party insiders to work out the unusual deal that will vault Jindal straight to the chairmanship in 2013, and then to vice-chairman in 2014 with Christie assuming control over the group. Jindal was elected to a second term as Louisiana governor in 2011," the news channel said.