Bollywood actor Sooraj Pancholi made false promises to his girlfriend, model-actress Jiah Khan, and drove her to commit suicide in 2013, CBI has said in its charge sheet even as a Mumbai court reprimanded the agency for leaking parts of the document to media.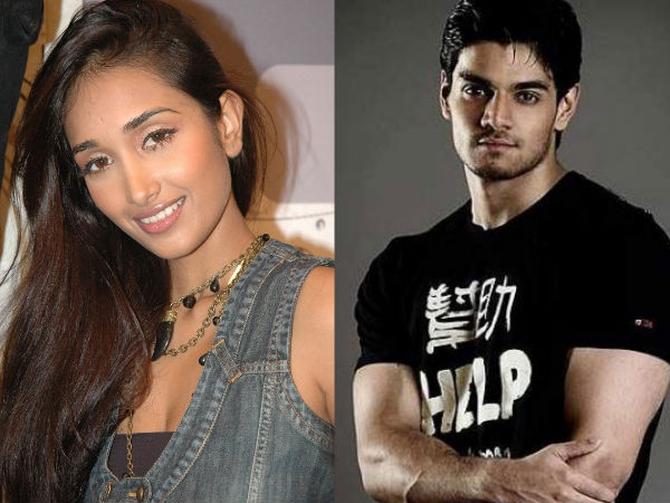 "Investigations revealed that the note written by the deceased (Jiah) establishes that Sooraj ruined her life," said the charge sheet, filed in a Special Court two days ago.
The false promise given by Sooraj to Jiah in the note (suicide note), that "you promised me once we made it to one year we would get engaged" made her emotionally attached to the 25-year-old actor, it said.
"The wilful conduct of the accused drove the accused to commit suicide," the charge sheet said, adding hence Sooraj is liable to be punished for abetting her suicide.
"Jiah and Sooraj were in contact since September 2012 through Facebook, and used to stay together till her death (on June 3, 2013). They were also into physical relationship", it said.
The agency said handwritten notes of Jiah, which were subjected to forensic analysis, showed her mental status and circumstances and reason behind her suicide.
The CBI said the three-page suicide note was written by Jiah in which she has narrated her intimate relationship with Sooraj, the physical abuse, mental and physical torture she underwent.
"Though the note is not signed by Jiah or addressed to Sooraj, evidence on hand suggests that this incriminates Sooraj only."
Investigations have brought out that Jiah used to clean Sooraj's room, iron his clothes and stack them in a cupboard. She also bought decorative articles for Sooraj's flat and presented gifts to him.
The agency accused Sooraj of giving incomplete and fabricated statements on relevant issues.
"They indicated he is concealing relevant information about the actual reason behind the incident," the charge sheet said.
"On the basis of forensic psychological assessment and behavioural analysis interview, it may be inferred that Sooraj is hiding some relevant information related to death/suicide of Jiah and did not want to disclose some content of last argument with her that may be a cause of her death."
No unknown person or any suspicious person was captured on CCTV footage obtained from the actor's building on the day of the incident, it said.
In the charge sheet, the CBI said in November 2012 Jiah informed Sooraj she has got injured and needed medication. He arranged Dr Anand Pal for treatment.
"Pal treated for the cut injury on her left hand and confirmed that this injury was a self inflicted one by Jiah."
The document also said Dr Rahul Datta treated Jiah for mental stress when she was in relationship with Jaydeep, her secretary.
"On December, 2, 2012, she was treated (again) by Dr Datta for the same problem but this time she did not disclose anybody's name for her stress and depression."
In January 2013, Sooraj and Jiah went to a hospital after she complained of stomach pain. She underwent some tests and reports confirmed she was pregnant.
"In the same month Jiah and Sooraj contacted Dr Datta to take advice for aborting pregnancy. Dr Datta prescribed some tables and after consuming it she started bleeding continuously," the charge sheet said.
Dr Datta later referred her to Dr Sejal Desai who executed a patient agreement form for medical abortion.
"After two days (around January 19, 2013) Dr Datta received a call from Sooraj, saying Jiah was sitting on the pot and half the stuff (foetus) was stuck inside. Dr Datta advised him to take her to the nearby hospital," it said.
Later again Sooraj called Dr Datta and said he helped her pull out the 'remaining stuff' (foetus).
The fact, the CBI said, was written by Jiah in her note saying, "I was scared of getting pregnant but I gave you myself completely. The pain you have caused me every day has destroyed every bit of me, destroyed my soul and I aborted our baby and it hurt me deeply."
On January 27, 2013, when she got a call from one Maneka Harsingani to collect costumes, Jiah told her she was having severe cramps on her leg.
"When Harsingani asked Jiah about Sooraj, she said he left the place on seeing the suffering and pain," the CBI document said.
When Harsingani reached Jiah's place, she saw Sooraj and his servant present in the building premises with his car. Sooraj was helping Jiah sit in the car and the starlet was repeatedly saying 'I am sorry'.
"Harsingani stated that once she went to Jiah's house for dressing her up for some programme, she saw some injury marks on her neck and shoulders. When asked, the starlet said they were the marks of beating by Sooraj."
CBI said Jiah went to London in February 2013, and told her mother Rabiya about Sooraj.
"Rabiya tried to convince her to keep away from Sooraj as he was concentrating on his (acting) career and was not suitable for Jiah. But Jiah tried to convince her mother showing messages sent by Sooraj that he was very caring while she was in Mumbai."
The document said after Jiah's return to Mumbai she told Sooraj her mother was not happy with their relationship. On April l3, 2013 when Rabiya came to Mumbai, Sooraj took her and Jiah to a hotel. In the hotel, the actor told Rabiya he was deeply in love with her daughter and wanted to marry her.
"Rabiya advised them to get engaged and when she asked Sooraj about his parents, he said his father (actor Aditya Pancholi) does not care about him and he was staying separately."
The charge sheet said on May 18, 2013, Jiah missed her plane. Later Sooraj came to Rabiya's residence and informed her about it and also said she was at his flat.
"Rabiya told Sooraj there was no problem as they liked each other. But Sooraj informed her Jiah was under depression as she had no work (film) and also said that due to depression once she tried to commit suicide by cutting her wrist. He told Rabiya he wants some space between him and Jiah as he is going to start his career."
A day before her suicide, Jiah told her mother a producer had selected her for a role in a Telugu movie. On the night of June 2, 2013 (a day before suicide), she received a bouquet from Sooraj for getting the role. Jiah thanked Sooraj but asked her watchman to throw the bouquet in the dustbin.
The charge sheet said some witnesses heard Jiah and Sooraj talking in a very angry manner that night. The next day Rabiya found Jiah hanging from the ceiling.
Meanwhile, the Special Women's Court today took cognisance of the charge sheet filed by CBI on December 9.
However, the Court rapped the Central agency for leaking to the media parts of the charge sheet.
"How come the contents of the charge sheet is known to media even before I got to know about it," Judge A S Shende said.
"CBI is the only source from where it got leaked. This is a very serious thing. Be careful about it in future," she warned and later adjourned the matter till January 18.
Sooraj appeared before the court and collected a copy of the charge sheet.
Meanwhile, outside the court, Jiah's mother Rabiya told reporters he was not satisfied with the CBI charge sheet.
"I am not happy with the chargesheet, there is much more to be revealed."
Jiah, an American citizen, was found dead at her Juhu home here on June 3, 2013. Police later arrested Sooraj on the basis of a six-page letter, purportedly written by the Bollywood starlet, and booked him for 'abetment of suicide'.
According to police, Jiah (25) was in a relationship with Sooraj, who was then trying to make a foothold in Bollywood, and made his screen debut with "Hero", which hit the theatres in September this year.
The Bombay high court had subsequently granted bail to Sooraj. His bail application contended that the two were in a consensual relationship, and the letter was being misused by Jiah's mother.
In October 2013, Rabiya moved the high court alleging that her daughter had been murdered and sought a CBI probe.
The suburban Juhu Police on January 16, 2014, filed a 447-page chargesheet in Andheri magistrate's court. The case was transferred to CBI in July 2014.