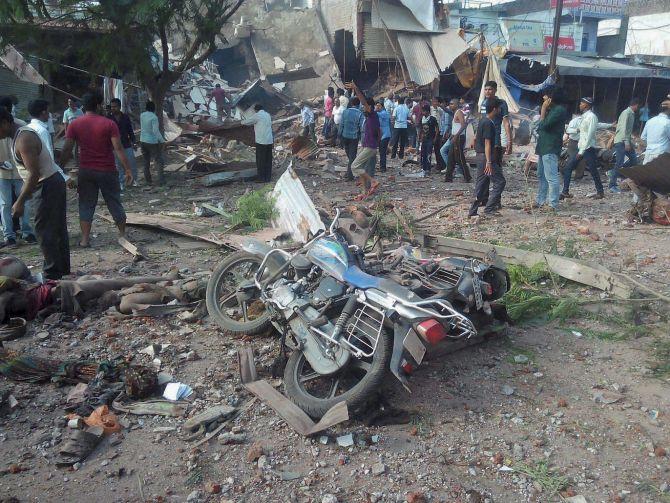 Two days after an explosion claimed 89 lives in Petlawad town in tribal Jhabua district, police on Monday recovered 69 detonators and a large number of gelignite sticks from the residence of the brother of the main accused in the incident.
Rajendra Kasawa, the main accused in connection with the incident, is absconding since the explosion occurred on Saturday, a police official said.
Police recovered 69 detonators and two batteries from the Mahavir Colony residence of Narendra Kasawa, assistant sub inspector Virendra Singh Bais said.
Gelignite sticks too were recovered from the place, but their exact number is not yet known, he said.
Narendra is also absconding along with his family from Petlawad, he said.
An intensive search operation was launched following reports of large number of persons storing gelignite sticks in an illegal manner for carrying out mining and blasting rocks for construction work, he said.
A reward of Rs one lakh was earlier announced by Chief Minister Shivraj Singh Chouhan for information leading to the arrest of Rajendra Kasawa, as his administration came under scanner over allowing storage of explosives in a crowded residential area.
Meanwhile, Chouhan, who had visited the blast site on Sunday and also gone door-to-door meeting the affected families, reached Petlawad again on Monday to meet the victims.
The state government had on Sunday announced an ex gratia amount of Rs 5 lakh to the kin of those killed in the explosion.
At least 89 people were killed and nearly 100 injured after a massive blast caused by mining explosives stored in a building ripped through a crowded area in Petlawad town.
The blast completely destroyed at least two buildings -- one in which explosive material for digging wells was stored and an adjacent restaurant, and damaging several houses.
The explosion took place in the building of Kasawa who had a licence to use explosive material for digging wells. He stored the explosive material, including gelignite sticks in huge quantity, in the residential building having two shops in it and situated close to the busy Sethia Restaurant in new bus stand area, a police official said.
Image: Damaged motorcycles lying near a collapsed restaurant near the blast site in Petlawad town. Photograph: PTI Photo