Janata Dal-United's chief spokesperson Neeraj Kumar on Monday charged Rajya Sabha deputy Chairman Harivansh with having "sold his conscience" by taking part in the inauguration of the new Parliament building, a programme that their party had boycotted.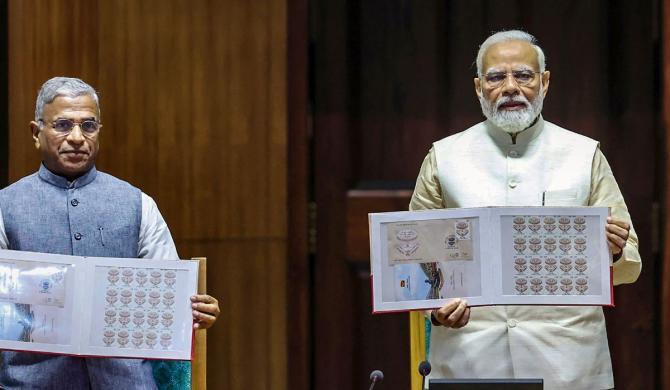 Bihar Bharatiya Janata Party president Samrat Choudhary hit back, accusing Chief Minister Nitish Kumar's party of violating "democratic norms" by attacking "a person holding a constitutional post".
In a strongly worded statement, the JD-U spokesperson criticised Harivansh, a journalist turned politician, for attending the function "where even your Chairman, the Honourable Vice President, was not present..
"The party had sent you to the Rajya Sabha in recognition of your contributions to journalism. But when a dark chapter in the history of parliamentary democracy in the country happened, you traded intellectual integrity for your high office. You sold your conscience," Neeraj Kumar said.
The CM, also the party's supremo, had defended the boycott of the function which he described as "an attempt to change history by those who had made no contribution to the freedom struggle".
More than 20 parties had boycotted Sunday's function, insisting that President Draupadi Murmu, and not Prime Minister Narendra Modi, should have inaugurated the new building.
The JD-U spokesman added "It is for the top leadership to decide what action to take in view of your participation despite the party having decided to boycott. But future generations will what to make of your action that was unbecoming of a person of your stature".
Serving his second consecutive tenure in the Rajya Sabha, which will end next year, Harivansh has been the Deputy Chairman since 2018, when he became only the third non-Congress MP to occupy the post.
The 66 years old had served as a media advisor to the then Prime Minister Chandra Shekhar before serving as editor of Prabhat Khabar, one of the leading Hindi newspapers of Jharkhand and Bihar.
Meanwhile, state BJP president Samrat Choudhary reacted to the JD-U spokesperson's outbursts, saying, "It is none other than Nitish Kumar who can be held guilty of having sold his conscience, as is evident from his many a political volte-face."
The JD-U pulled out of the Bharatiya Janata Party-led National Democratic Alliance last year and has since been a part of 'Mahagathbandhan', which includes the Rashtriya Janata Dal, the Congress and the Left.
Chaudhary added that while the BJP saw JD(U)'s problem with Harivansh as "an internal matter" of that party, "aspersions cast on one who holds a constitutional post are an insult to democratic norms."