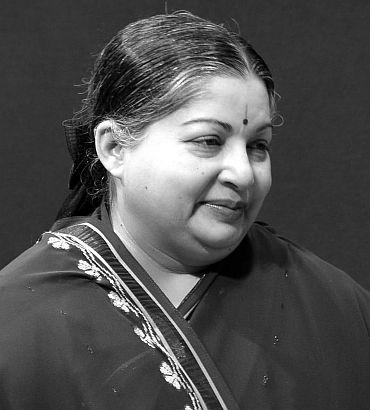 Today, as Jayalalithaa's friend, advisor and 'sister' Sasikala is also lodged in Bangalore Central jail, the former Tamil Nadu chief minister is where she was before: alone, all alone
All India Anna Dravida Munnetra Kazhagam chief J Jayalalithaa has again chosen O Panneerselvam, the state finance minister, to be her understudy. In a similar situation in 2001, Panneerselvam was picked up to be the chief minister when Jayalalithaa went to jail on corruption charges (he had then showed his gratitude by prostrating himself before the leader after the appointment).
But the drama unfolding in Chennai has another side to it: The story of Jayalalithaa's friend, advisor and "sister" Sasikala Natarajan and two other family members.
Sasikala's relations with Jayalalithaa date back to 1983. Originally a video parlour owner, she managed to get close to Jayalalithaa when former chief minister and AIADMK chief M G Ramachandran (popularly known as MGR) made Jayalalithaa his propaganda secretary. Sasikala used to videograph her tours then.
In 1991, when Jayalalithaa became the chief minister, Sasikala moved to PoesGarden, her official residence. Sasikala soon became an alternative pole of power in the AIADMK and the government. When the party lost power in 1996, Sasikala found herself out of the AIADMK following allegations that she and her husband had bought and sold party positions.
But it was a short exile and Sasikala soon returned to the fold. The year 2000 saw a revolt in the party after which Karuppasamy Pandian, Sedapatti R Muthiah and S Regupathy, considered to be among the most powerful leaders in the party, were sacked.
Muthiah was the only one to hit back vocally. He said they had been expelled because Jayalalithaa had become "a handmaiden of the Mannargudi mafia" (Sasikala's family belongs to Mannargudi, near Thanjavur, in Tamil Nadu).
"Jayalalithaa has become bold enough to destroy and bury AIADMK, founded by MGR and built on the blood of its cadres... The Mannargudi group, which has occupied PoesGarden, has a big plan...," he said. He alleged a party property (what was earlier the Safire Theatre) in Chennai had been advertised for sale without identifying it or mentioning its owner, the AIADMK.
Though he was the party treasurer, Muthiah claimed he had been unaware about the property being put up for sale. Without the general council's permission, no party property could be sold, he explained.
With Muthiah's outburst, for the first time it was known publicly how much power Sasikala and her family had come to wield in the party. But Jayalalithaa apparently did not pay much heed, for it was balanced by Sasikala's loyalty -- she stayed by Jayalalithaa's side through her years in the wilderness and all her legal tribulations.
In the 2011 assembly elections, a random headcount revealed that of the 148 AIADMK members of legislative Assembly, 70-75 owed their nominations to interventions by Sasikala or her relatives, say AIADMK supporters.
Tamil newspapers reported that this and other facts were brought to Jayalalithaa's attention by well-wisher Cho Ramaswamy ahead of the 2011 elections. After she was elected as the chief minister, in an unprecedented move, her office ordered the expulsion of Sasikala and 14 members of her family from Jayalalithaa's official residence, the party and, as her supporters had hoped, from her life.
The official announcement stated they had been expelled for "gross interference in administration and political overreach". The expelled include a sister and three brothers of Sasikala; three sons of the sister; a son each of two brothers and a brother of Natarajan, Sasikala's husband.
Apparently, Jayalalithaa reacted after Ramaswamy told her the extent of influence in bureaucratic transfers and postings that the "Mannargudi mafia" appeared to enjoy. However, it is hard to verify this.
A day after Sasikala's expulsion, party members were seen bursting crackers at many places. But to their disappointment, Sasikala was back in PoesGarden a couple of weeks later. But her family stayed out. According to residents of Mannargudi, the village is unrecognisable -- Sasikala and her family's wealth is spread everywhere.
Today, as Sasikala is also behind the bars of the Bangalore Central jail, Jayalalithaa is back to where she was before -- alone, all alone.