The Congress on Saturday called Prime Minister Narendra Modi a "master of distortion" and accused him of caring only for his "grand tamasha" and not the inconvenience caused by his 26-km roadshow in Bengaluru.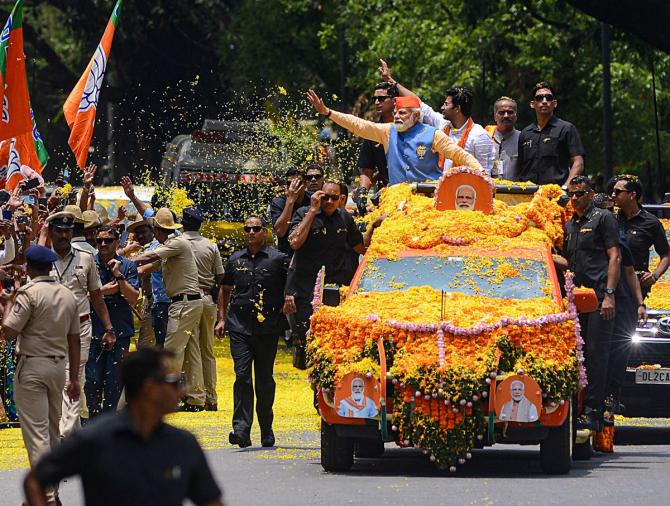 Congress general secretary Jairam Ramesh alleged ambulances were stuck on roads due to the chaos caused by the roadshow and said that Modi should cancel the second part of the roadshow slated for Sunday.
With just four days to go for the Karnataka assembly polls, Modi held a massive roadshow from Someshwar Bhavan RBI Ground in Bengaluru South to Malleshwaram's Sankey Tank.
The prime minister will hold another roadshow on Sunday morning.
"The Master Of Distortion and Incitement ('Abuse' No. 92??) is arriving in Bengaluru today. We already know what he'll say to inflame prejudice and bigotry," Ramesh said on Twitter ahead of Modi's roadshow.
He said the prime minister will stay absolutely silent on the real issues of Karnataka like "40 per cent commission sarkar, intolerable price rise, rising unemployment, and a forever under-construction and dug-up Bengaluru".
"This time the despair is so high that his #40km40percent roadshow over 2 days is locking up an entire city, creating chaos & uncertainty for students writing crucial exams, and felling a number of trees," the Congress leader said.
"Have you ever seen a PM this desperate," he asked.
After the roadshow, Ramesh said Modi should cancel its second part scheduled for Sunday.
"Ambulances stuck, chaos on road!
"If the PM has any shame left or even an iota of concern for the people of Bengaluru, he would immediately cancel part 2 of the #40km40percent roadshow tomorrow. But we all know that all he cares for is his Grand Tamasha," Ramesh tweeted.
He also shared a video of a traffic jam.
In another tweet, he said, "Jawans have been martyred, Wrestlers are protesting, Manipur is burning… And all the Prime Minister can think of is rallying to save the BJP from a humiliating defeat in Karnataka. Pathetic priorities!"
Modi's three-hour roadshow traversed through parts of south and central Bengaluru, touching about a dozen assembly segments. He waved at large crowds that gathered on both sides of the route.
Later, he addressed a rally in Badami and said the overwhelming response he received in Bengaluru during the roadshow made him believe that it is the people who are contesting the Karnataka elections on behalf of the BJP.
He said that the love and affection he received in Bengaluru was "unparalleled".