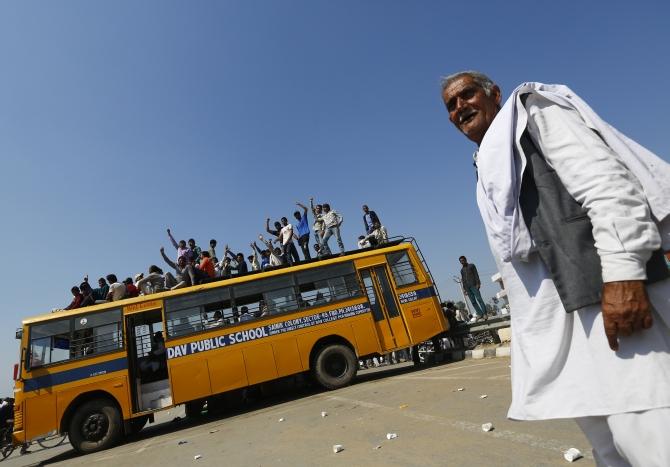 Prohibitory orders were clamped and mobile internet services suspended at many places in Haryana on Friday as the state braced for possible renewal of the Jat quota agitation that had led to widespread violence claiming the lives of 30 people last month.
Mobile internet services for 2G, 3G and 4G have been suspended for the time being in many sensitive districts, including Rohtak and Jhajjar, which were the epicentre of the recent Jat stir, officials said.
Prohibitory orders banning assembly of five or more persons have also been issued by some district authorities, including Sonipat, as a precautionary measure to maintain peace.
"There were some messages which were being circulated on WhatsApp about fake untoward incidents. Some messages were also forwarded on the mobile number of Rohtak's superintendent of police on Thursday. "We also rounded up few persons in this regard," Rohtak's Deputy Commissioner, Atul Kumar told PTI over phone.
Asked how long the internet services will remain suspended, he said, "We will not prolong it. These are just precautionary measures."
Jhajjar's SP Jashan Deep Singh also said they had taken a similar step as such messages were being circulated. "In order to prevent any wider circulation, we have taken the step to suspend the services for the time being," he said.
Meanwhile, the Haryana government was holding talks with Jat leaders in Rohtak on Friday afternoon on their quota demand. All India Jat Aarakshan Sanghursh Samiti President Yashpal Malik said in view of their meeting with the Haryana chief secretary and the director general of police the agitation will not be resumed.
"After meeting the top officials next course of action will be taken," he said.
Various Jat organisations had given a deadline of 72 hours on Monday threatening to resume their quota agitation if their demands were not met by the Manohar Lal Khattar government. The deadline ended on Thursday following which the state government invited Jat leaders for talks.
Jats are demanding 10 per cent quota in jobs and educational institutions, besides withdrawal of first information reports registered against the protesters, compensation to those killed during the stir and action against Bharatiya Janata Party Member of Parliament from Kurukshetra Raj Kumar Saini for his "anti-Jat" reservation stand.