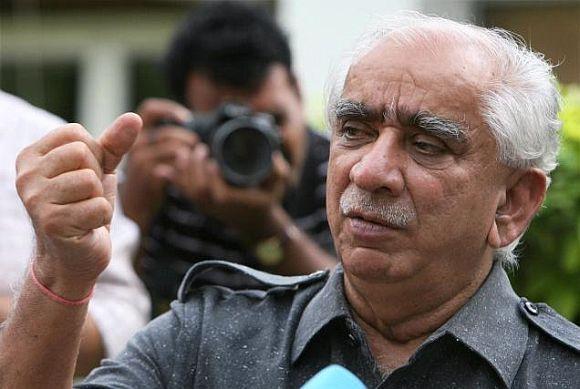 Senior Bharatiya Janata Party leader Jaswant Singh on Sunday met party patriarch L K Advani, who is sulking after Narendar Modi was named the party's prime ministerial candidate.
Senior party leaders have been calling on Advani in an apparent bid to mollify him even as Leader of Opposition in Rajya Sabha Arun Jaitley on Sunday expressed confidence that Advani will "eventually support" the "winning decision" of the party to annoint Modi as BJP's face for the 2104 Lok Sabha polls.
Party chief Rajnath Singh, Leader of Opposition in Lok Sabha Sushma Swaraj, Jaitley, Ananth Kumar, Ravi Shankar Prasad and Balbir Punj had met Advani on Sunday, who is closeted in his house since the decision on Modi was taken on Friday.
Earlier, Advani had written a letter to the BJP chief expressing disapproval over his style of functioning. The BJP president had told reporters in Mumbai on Sunday that as a patriarch, Advani has every right to scold or admonish any party leader if he sees any shortcoming.
"I do not have the stature to reply to anything that Advani says," Singh had said about Advani's letter. Asked about Advani's stand after her meeting with him, Swaraj had said, "Nobody is upset."
Modi himself was the first to visit Advani after the parliamentary board decision. He had spent 30 minutes with the leader.
Rashtriya Swayamsevak Sangh ideologue M G Vaidya had also defended Advani's right to dissent against the decision to make Modi the PM candidate even as he had hailed the "democratic manner" in which the Gujarat chief minister was chosen by the parliamentary board.