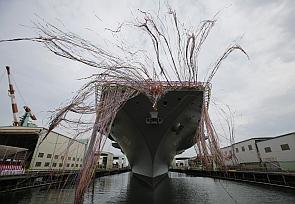 The Japanese navy has reportedly unveiled its biggest warship since the World War II which is speculated to double up as an aircraft carrier amid growing tensions with China over some disputed islands.
According to the Sky News, Japan unveiled the Izumo which has a flight deck that is nearly 820 feet long and is designed to carry up to 14 helicopters. The ship which has raised eyebrows in rival China will be used in national defence particularly in anti-submarine warfare and border-area surveillance missions.
It will also be used to bolster the nation's ability to transport personnel and supplies in response to large-scale natural disasters, such as the devastating earthquake and tsunami in 2011.
The ship's launch comes in light of the longstanding dispute between China and Japan over several small islands located between southern Japan and Taiwan.
Some experts believe that Izumo could be used to launch fighter jets or other aircraft that have the ability to take off vertically but Japan said that it has no plans to use the ship in that manner, the report added.