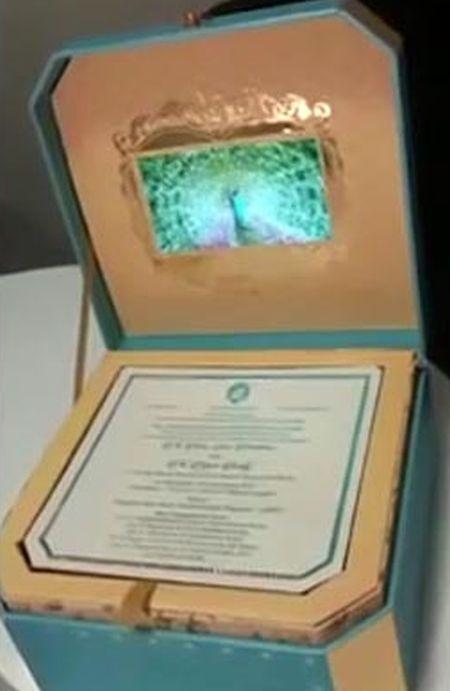 Forget the Big, fat Indian wedding!
The wedding invitation card of the daughter of Gali Janardhan Reddy, the mining baron who was jailed for 40 months for illegal mining and former Bharatiya Janata Party state minister, is a spectacle unto itself.
For those who haven't been invited, we give you a lowdown on one of the fanciest and most expensive cards to have been made for a wedding.
Those invited to Bramhani's wedding in November were gifted a box.
As the box opens, a little LCD screen comes alive with song and a text announces 'Bramhani Weds Rajeev Reddy'.
'Atithi Devobhava (guest is like God),' Reddy sings -- or lip syncs -- along with his wife and son.
The video then introduces the bride and the groom in a cinematic manner, with Brahmani walking shyly amidst gardens, waterfalls and cascading flowers, while Rajeev, sporting sunglasses, saunters among white stallions.
The one-minute video ends with a close-up of the family as the date and venue are announced.
Here's a clip of the invitation for those unlucky people like us who haven't been invited.
Watch it, and maybe get inspired to plan a similar invite for your big day!