The minister without portfolio is recovering well after his kidney transplant and has started walking in his hospital room.
Arup Roychoudhury reports.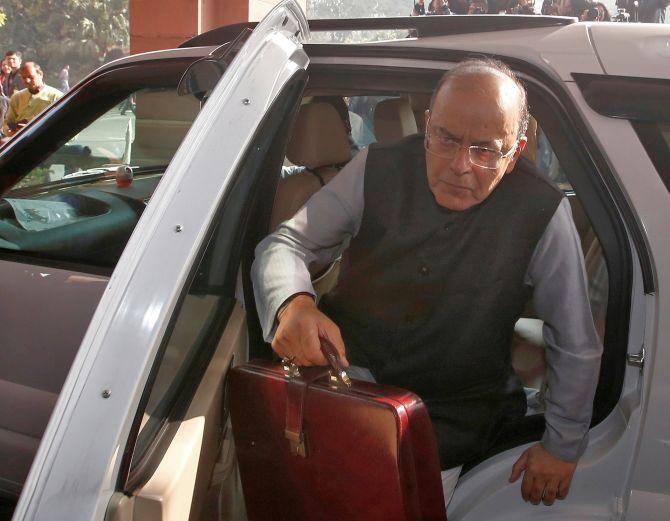 Finance Minister Arun Jaitley is expected to be discharged from hospital earliest by Friday, June 1, after his kidney transplant surgery earlier this month.
Jaitley will follow a closely monitored recovery process at home, and if all goes well, may rejoin work in the finance ministry by end-June.
Sources close to Jaitley say he is recovering well and has started walking in his hospital room at the All India Institute of Medical Sciences.
After getting discharged, he will follow a strict diet regime and access to him will be restricted for at least 10 or 15 days, as part of continuing post-operative care.
Jaitley is currently listed on the prime minister of India's Web site as 'Minister Without Portfolio'.
He is expected to start working from home and receive files and official briefings within two or three weeks.
"If all goes well, you could see him in North Block by June-end," said a person aware of the progress of Jaitley's treatment.
"So far, he has responded well, but precautions will still have to be maintained once he is discharged from the hospital," the person added.
In Jaitley's absence, Railways and Coal Minister Piyush Goyal has held additional charge of the finance and corporate affairs ministries.
Jaitley, 65, underwent a successful kidney transplant surgery at AIIMS on May 14. He had been keeping unwell since early April due to kidney related problems and a chest infection.
He had been admitted to AIIMS last month, but was released without getting any surgery done. He had been undergoing regular dialysis before his surgery.
Jaitley had not been coming to the finance ministry since early April and was working from home, clearing files and meeting people in a controlled environment.
He had cancelled a scheduled trip to the United Kingdom in April. He took the oath after his re-election to the Rajya Sabha in mid-April, nearly two weeks after other members.
In September 2014, Jaitley underwent bariatric surgery to treat weight gain because of a long-standing diabetic condition. He had heart surgery several years ago.