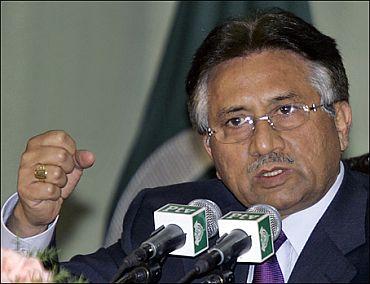 Former Pakistan President General Pervez Musharraf described Jaish-e-Mohammed chief Masood Azhar as a "terrorist", saying he has been involved in bomb blasts even in his country.
He, however, he did not give a clear reply as to why Pakistan has been asking China to get Azhar declared as an international terrorist by the United Nations.
"Why should China be involved when it has nothing to do with him (Azhar)," Musharraf told News Nation, according to a release issued by the TV channel.
A proposal is pending before the UN Security Council for declaring Azhar as an international terrorist but China has been blocking it, claiming that there is not enough evidence to prove that he is a terrorist.
When asked about the espionage case busted on Thursday in Delhi involving an employee of the Pakistan high commission, the former Pakistan Army chief initially parried the issue saying, "I am not aware of it". But then he added that "if at all it has happened, (it) shouldn't be encouraged", the release said.
It also quoted Musharraf as saying that the Nawaz Sharif government lacks aggression.
The channel said Musharraf accepted Pakistan government's diplomatic failure on international front. He, however, said it does not mean that Pakistan should be taken for granted.
To a question on whether a political leadership or army is better suited for Pakistan's development, Musharraf said the country had witnessed growth when the army was in power.
When asked about terror camps in Pakistan-occupied Kashmir, he feigned ignorance saying "I don't know". However, with a smile, he said, "I will let you know only once I get the count of these camps which you are talking about".
On Pakistan's diminishing relations with United States, he said there are certain contentious issues which are being addressed by the Pakistan Army.
When referred to the 'surgical strike' and military might of India, he said, Pakistan is a nuclear power with a strong army which can't be bullied.
On Prime Minister Narendra Modi's sudden visit to Pakistan and his meeting with Sharif, he said shaking hands is just an artificial move, but for a formal solution, something concrete needs to be done.