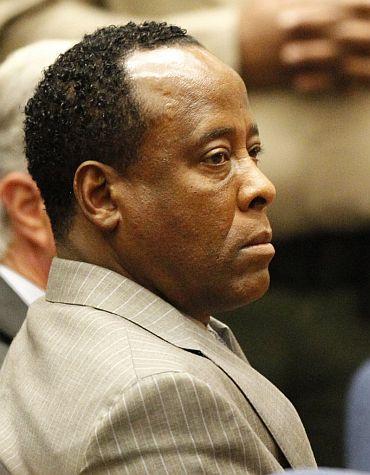 Michael Jackson's doctor Conrad Murray has been sentenced to four years behind bars for his role in the death of the pop superstar.

Murray was found guilty on November 7 for giving Jackson an overdose of the anesthetic propofol on June 25, 2009 at the star's plush Holmby Hills mansion. The drug was purportedly to help the singer fight chronic insomnia.

The physician admitted he had given the drug to the star for up to two months before his death.

Delivering the sentence, Superior Court Judge Michael Pastor said: "It should be made very clear that experimental medicine is not going to be tolerated, and Jackson was an experiment. Dr Murray was intrigued by the prospect and he engaged in this money for medicine madness that is simply not going to be tolerated by me."

Judge Pastor further stated that 'Dr Murray has absolutely no sense of remorse, absolutely no sense of fault, and is and remains dangerous' to the community.

Murray will likely serve only half of the sentence under new California guidelines targeting prison overcrowding and will be held in county jail rather than state prison.

In a statement issued before the sentence was handed down, Jackson's family said they were seeking justice, not revenge, by asking Judge Pastor to impose the maximum punishment.

They asked for a sentence that sent a message that physicians "cannot sell their service to the highest bidder and cast aside their Hippocratic oath to do no harm."

Outside the courtroom following the hearing, Jackson's mother Katherine said Pastor was "very, very fair" in his sentencing, Fox News channel reported.

"Four years won't bring my son back, but that's the law, so the judge gave him the maximum," she said. "So I thank the judge and I thank the prosecutors and I think everything went well."