A major terror attack was foiled by the Jammu and Kashmir Police on Saturday and three Lashkar-e-Tayiba terrorists were killed on the outskirts of Srinagar, police said.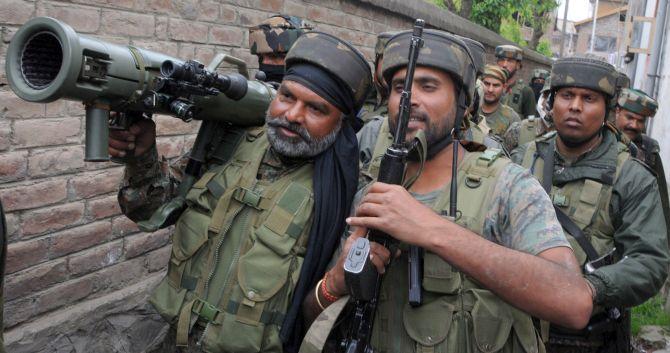 Based on an intelligence input, the Special Operations Group of Jammu and Kashmir Police and Central Reserve Police Force personnel cordoned off an under-construction building, near the Chattabal area on Saturday morning, police said.
"All the three militants are neutralised and I believe it was a LeT module," Inspector General of Police (Kashmir Range) Swayam Prakash Pani said, adding, "On the basis of the materials recovered from the site, it was found that the terrorists belonged to the outlawed LeT."
The operation was conducted swiftly and it was over in four hours with no collateral damage, Pani said, adding that four security personnel, who had received injuries during the operation, were stable now.
"Utmost precaution was taken to ensure the safety and security of the people living in the neighbourhood," the inspector general said.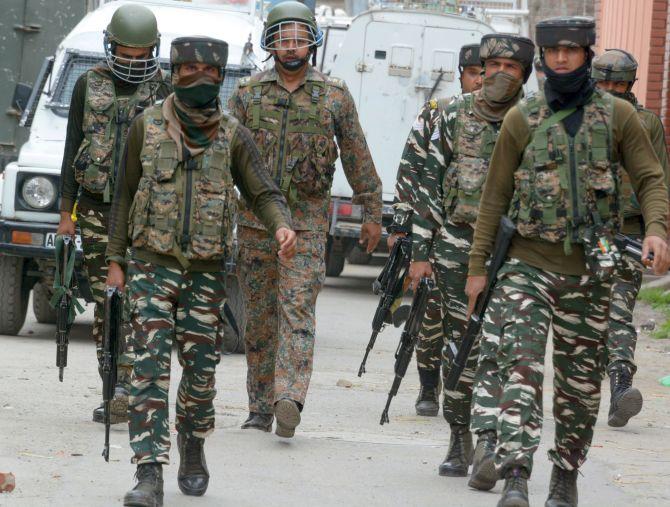 The identity of the three slain terrorists was being ascertained, a police official said, adding that one of them was a local.
Besides three AK rifles, a huge quantity of ammunition, including five magazines each, and a medical kit were recovered from the terrorists, the police said, adding that the search was continuing.
It is suspected that the militants wanted to carry out a terror strike ahead of May 7, when government offices open in Srinagar after shifting from Jammu, the winter capital of the state.
"A man, identified as Adil Ahmad Yadoo, was brought to the SMHS hospital, where the doctors declared him brought dead. According to the medical bulletin, he died in a road accident at Noorbagh," a police spokesman said, adding that the place was nearly four to five km away from the encounter site.
Tension mounted in the city over Yadoo's death as the locals alleged that he was shot dead by the security forces.
However, the post-mortem report said Yadoo was hit by a speeding vehicle and there was no bullet injury, the police said.
It was a road accident, which was being probed by the police, the IG said, adding that a police vehicle was involved in it and that all necessary steps for a proper investigation were initiated.
Photographs: Umar Ganie/Rediff.com