Under pressure to act, United States President Donald Trump on Thursday vowed to find a long-term solution to stop the spike in gun violence in America and floated the idea of arming specially trained teachers to prevent a repeat of the recent Florida school shooting that killed 17 people.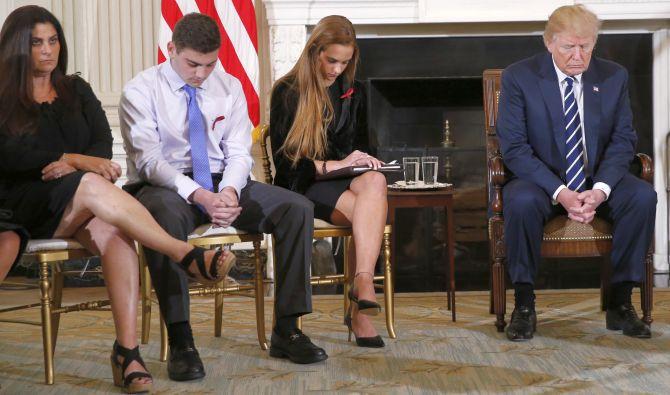 IMAGE: US President Donald Trump bows his head during a prayer as he sits between Marjory Stoneman Douglas High School shooting survivors and students Julia Cordover and Carson Abt as the president hosts a listening session with high school students and teachers to discuss school safety at the White House. Photograph: Jonathan Ernst/Reuters
Trump responded to a number of emotional stories from the survivors and parents of victims from the shooting at the Marjory Stoneman Douglas High School on February 14 by pledging to act on school shootings "two minutes" after a listening session.
The event, hosted in the White House's State Dining Room, brought Trump face-to-face with angry students and parents who have demanded firmer action on gun violence.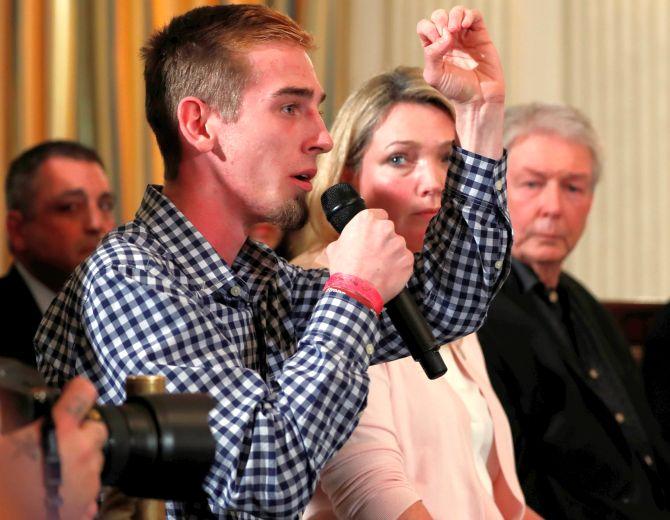 IMAGE: Marjory Stoneman Douglas High School student Samuel Zeif gestures a "zero" and says that he believes Australia solved their school shooting problem by banning firearms, when delivering his remarks to U.S. President Donald Trump during his listening session. Photograph: Jonathan Ernst/Reuters
"We want to learn everything we can learn. Starting about two minutes after this meeting, we're going to work. This is a long-term situation that we have to solve. We'll solve it together," Trump said.
"You have gone through extraordinary pain, and we don't want others to go through the kind of pain that you've gone through. Wouldn't be right," said the president.
Trump said that his administration would look strongly into gun purchase ages, as well as the "mental health aspect."
"I never said 'give teachers guns'... What I said was to look at the possibility of giving 'concealed guns to gun adept teachers with military or special training experience -- only the best. Twenty per cent of teachers, a lot, would now be able to immediately fire back if a savage sicko came to a school with bad intentions," Trump tweeted on Thursday, clarifying his earlier comments.
"Highly trained teachers would also serve as a deterrent to the cowards that do this...," asserted the US President.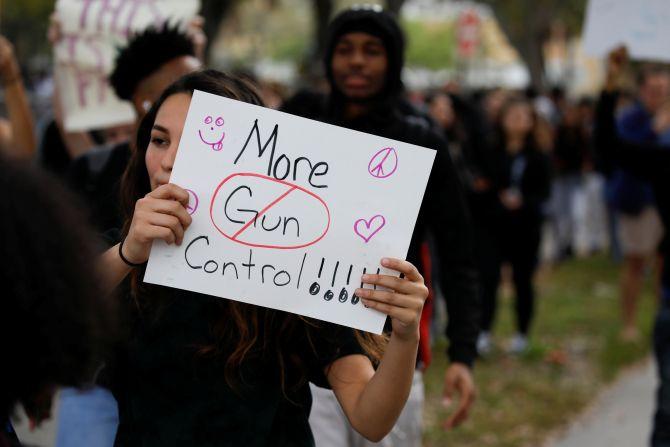 IMAGE: Students from South Plantation High School carrying placards and shouting slogans walk on the street during a protest in support of the gun control, following a mass shooting at Marjory Stoneman Douglas High School, in Plantation, Florida, on Tuesday. Photograph: Carlos Garcia Rawlins/Reuters

Andrew Pollack, whose daughter Meadow died in the school shooting said that it is time for the country to come together.
"We as a country failed our children. This shouldn't happen," he said.
"I can't get on a plane with a bottle of water, but we leave it, some animal could walk into a school and shoot our children. It's just not right, and we need to come together as a country and work on what's important, and that's protecting our children in the schools. That's the only thing that matters right now," Pollack said.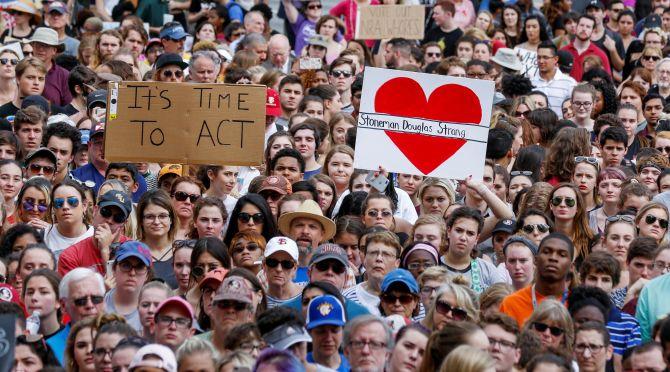 IMAGE: Protesters rally outside the Capitol urging Florida lawmakers to reform gun laws.
Photograph: Colin Hackley/Reuters
"I want to feel safe at school, you know, senior year and junior year, they were big years for me, when I turned my turned my academics around, started connecting with teachers, and I started actually enjoying school. I don't know how I'm ever going to set foot on that place again, or go to a public park after school, or be walking anywhere.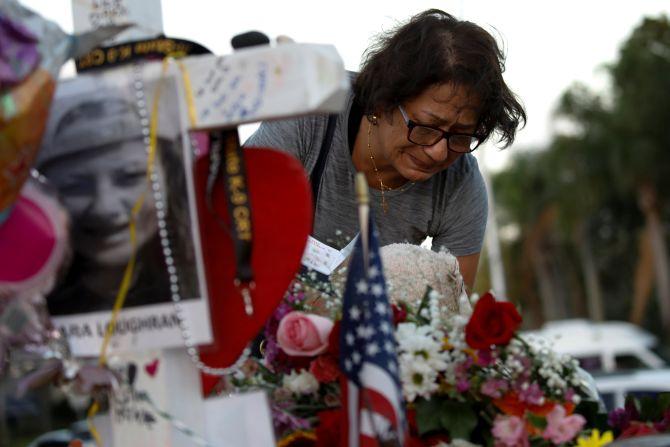 IMAGE: A woman grieves in front of a cross placed near the fence of the Marjory Stoneman Douglas High School to commemorate the victims of the mass shooting. Photograph: Carlos Garcia Rawlins/Reuters
"Me and my friends, we get scared when a car drives by, anywhere," said Sam Zeif, a student from Marjory Stoneman Douglas in Parkland.
His friend was killed in last week's school shootout.
Trump listened to all of the nearly 40 participants.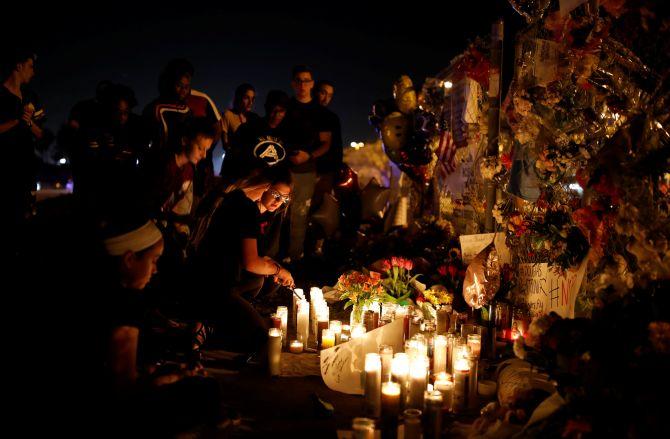 IMAGE: People light candles in front of mementoes placed near the fence of the Marjory Stoneman Douglas High School. Photograph: Carlos Garcia Rawlins/Reuters
One of the participants suggested having people in the school -- teachers, administrators, who have volunteered to have a firearm safely locked in the classroom, and are given training throughout the year.
"There are plenty of teachers that are already licensed to carry firearms. Have them raise their hands to volunteer for the training, and when something like this starts, the
first responders are already on campus," he said.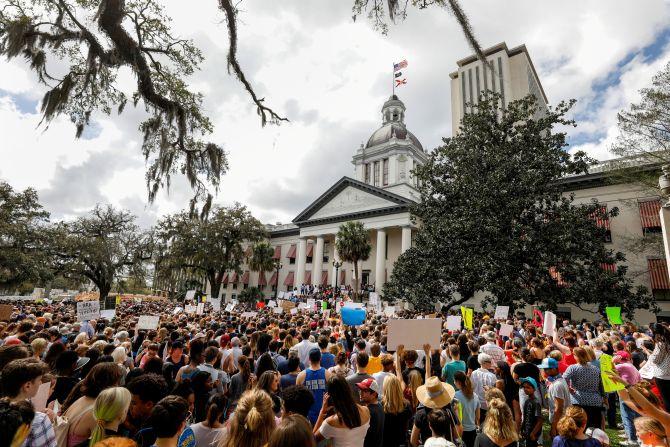 IMAGE: Protesters rally outside the Capitol. Photograph: Colin Hackley/Reuters
Trump appeared to be favourable to the idea.
"If the coach had a firearm in his locker... if he had a firearm, he wouldn't have had to run. He would have shot, and that would have been the end of it. And this would only be, obviously, for people that are very adept at handling a gun. It is called concealed carry, where a teacher would have a concealed gun on them," said the president.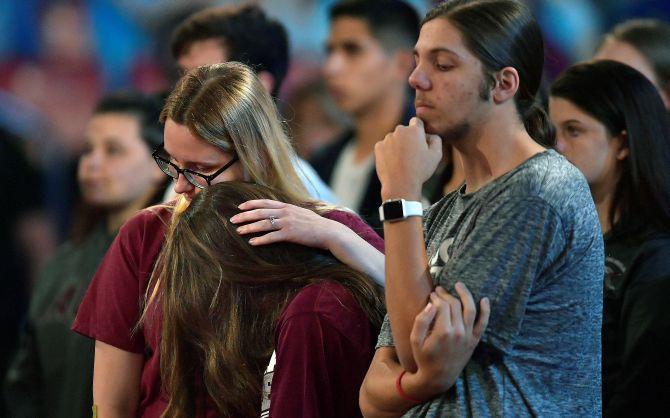 IMAGE: Marjory Stoneman Douglas High School students listen to sheriff Scott Israel speak before a CNN town hall meeting at the BB&T Center, in Sunrise, Florida. Photograph: Michael Laughlin/Pool/Reuters

Trump said that the background checks are going to be very strong.
"We need that. And then, after we do that, when we see this trouble, we have to nab them," he said.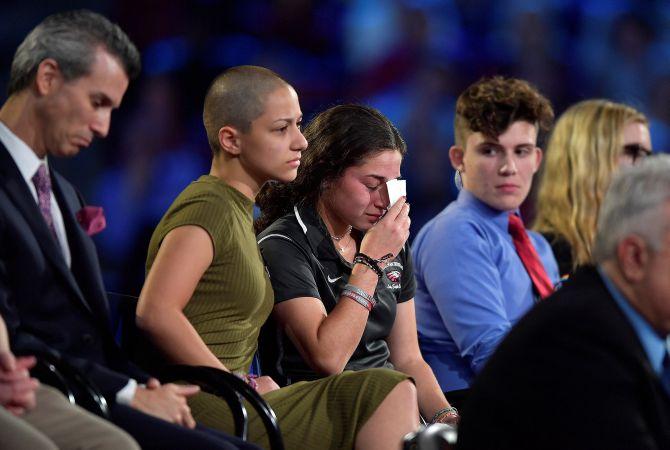 IMAGE: A student comforts a classmate during the CNN town hall. Photograph: Photograph: Michael Laughlin/Pool/Reuters
Trump, who was elected with the support of the National Rifle Association -- has so far expressed support for regulating bump-fire stocks, which make it easier to fire rounds more quickly, and strengthening background checks for gun purchases.
Gun-related deaths unfold in tragic circumstances across the America daily, with over 1,800 people killed by guns this year alone, according to Gun Violence Archive, a not-for-profit group.
'I hear you' – Trump's cue cards to remind him to listen to survivors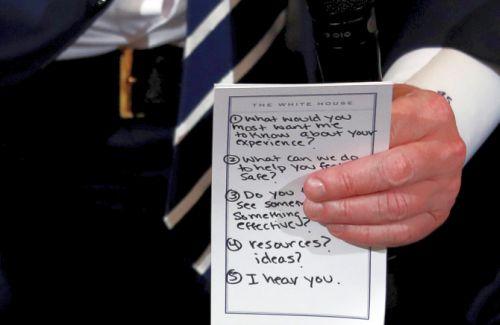 Briefing notes captured by photographers at US president Donald Trump's White House listening session with survivors of gun violence show that he needed to be reminded to say "I hear you".
Close-up pictures of the note revealed that it had five points, of which the first was a reminder to ask the question: "What would you most want me to know about your experience". The second question listed is "What can we do to make you feel safe?"
The US president's note also prompted Trump to ask survivors for their ideas, or what resources they think might be needed.
But it is the final note - "I hear you" - that has attracted the most criticism, with the implication that without a prompt the president would be unable to show sympathy towards those affected by school shootings, some of whom had travelled from Florida for the occasion.