The former president called up his family in Rameswaram on Sunday to ask about his elder brother's health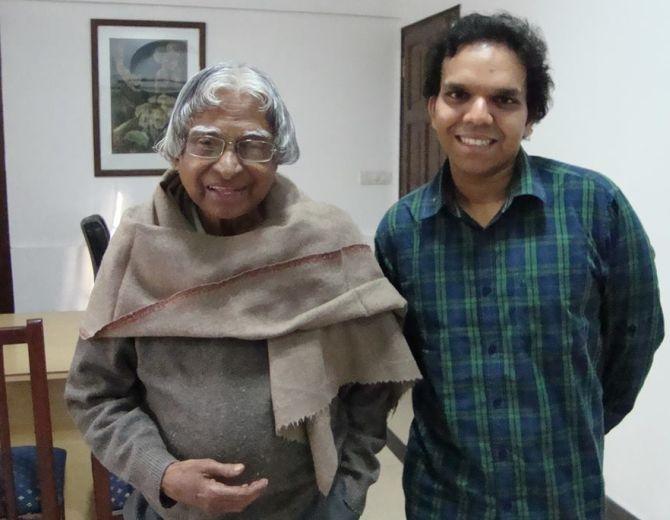 APJ Abdul Kalam with his aide Srijan Pal Singh, who accompanied the former president to Shillong. Photograph: Srijan Pal Singh/Facebook

Former President A P J Abdul Kalam had called up his family from Shillong a day before his death to inquire about the health of his 99-year-old brother, Mohd Muthu Meera Lebbai Maraicker.
Kalam's grandnephew Saleem said that Kalam had called the family members on July 26 evening and asked about the health of his brother and others. He had also stated that it was very cold in Shillong, where he breathed his last on Monday
The late President's last rites will be performed in Rameswaram as per the wishes of his close relatives and the general public in the island city. "It is the wish of not only our family, but the entire people of this island that his body should be brought and buried here," Saleem told reporters.
District officials were, meanwhile, inspecting a site near a mosque, adjacent to the Railway station for burying the former President.
His cousin Kasim Mohammed said a memorial should be built for him in Rameswaram.
All the shops in Rameswaram remained closed as a mark of respect for the great leader. Fishermen also decided not to go to the sea for the next three days to mourn his death.
Condoling the former President's death, Jamath President Abdul Hameed said Kalam was a mentor to the youths and taught them discipline and integrity.
Meanwhile, students in the city were seen lining up with candles to pay homage to Kalam. About 5,000 students of the St Josheph College, where Kalam pursued his B.Sc (Physics), took out a silent march to pay homage to the former president.
In Dindigul, his former professor Chinnadurai expressed grief over Kalma's death. He said Kalam was a simple man, and for him country was first and foremost above all religion. He wanted to work for the people of the country.
Kalam's childhood friend Venkata Subramanian said he was saddened by his sudden demise. He recalled that Kalam invited him for his swearing-in ceremony. "The top position did not go to his head and nobody can say anything against him. Such a gem he was," he said in a voice choked with emotion.
Kalam, who had addressed students in Tamil Nadu some years ago, had asked children to be courageous.
"You know I was even dreaming of becoming a pilot... During my schooling in Rameswaram, an island, I was taught by a teacher about how a bird flies. There were 40 students. But I got up and candidly told the teacher that I have not understood it."
"Will you students do that," he had asked the children.
On not getting a positive reply, he had repeated, "Will you ask or you will not think the teacher might beat you. My teacher was a Gandhian and he did not mind it and taught me again. The teacher will teach you if you approach him," he had said.