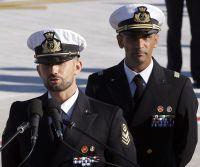 After celebrating Christmas with their families, the two Italian Marines, facing murder charges in Kerala, are expected to reach the state on Friday complying with the high court directive.
Massimiliano Latorre and Salvatore Girone, who were allowed to go home for two weeks by the court, will board a special flight for Kochi by around 9 pm on Thursday night and arrive in Kochi by 8.30 am on Friday morning, according to their counsel P Vijaybhanu.
They will be leaving for Kollam court on Friday soon after reaching here for surrendering their passports, he said.
Personnel from Defence and External Affairs Ministries of the Italian government are accompanying the two here.
The marines were arrested on February 19 last year for shooting to death two Indian fishermen -- Ajesh Binki (25) and Jelestine (45) from onboard merchant vessel 'Enrica Lexie' off Alapuzha coast, 'mistaking' them for Somali pirates.
Stringent conditions had been laid down by the court, which had asked them to return by January 10. The Kollam sessions court had asked them to be present for the trial on January 15.
The Italians had also executed Rs 6 crore bank guarantee as directed by the Kerala high court for allowing them to leave for two weeks.
The Kerala government had opposed the marines plea in the high court by saying it was a ruse to "smuggle them out" and would "torpedo" the ongoing trial.
Image: Italian marine Girone speaks to the media next to fellow marine Latorre after landing at Ciampino airport in Rome on December 22
Photograph: Alessandro Bianchi/Reuters