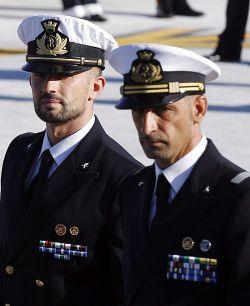 In a fresh development in the Italian marines case, the Law Ministry on Saturday concurred with the External Affairs Ministry on non-applicability of a controversial anti-piracy law which is being strongly contested by the Italian government.
The Law Ministry is of the view that the Suppression of Unlawful Acts against the safety of Maritime Navigation should not apply in the case against the two Italian marines who have been accused of killing two Indian fishermen two years ago, sources said.
This view, which concurs with that of the External Affairs Ministry, was conveyed to the Home Ministry today, the sources added. The ball is now in the court of the Home Ministry.
The development assumes significance as the Law Ministry has given its view just two days ahead of the hearing in the Supreme Court which had asked the government to sort out differences on applicability of SUA.
During the last hearing on February 18, Attorney General G E Vahanvati told the Supreme Court that the government is waiting for the Law Ministry's opinion on the issue.
The Italian government is strongly contesting the applicability of SUA.
In a petition in the SC, it has argued that invoking of SUA "would tantamount to the Republic of Italy being termed a terrorist state and acts of its organs, which were in repression of piracy, as being deemed as acts of terrorism, which is wholly untenable and unacceptable in the facts and circumstances of this case and in keeping with the comity of nations and international cooperation".
The case pertains to the killing of two Indian fishermen allegedly by Latorre and Girone on board 'Enrica Lexie' off Kerala coast on February 15, 2012.
The two officers contended that they had apprehended a piracy attack. The marines were arrested on February 19, 2012.