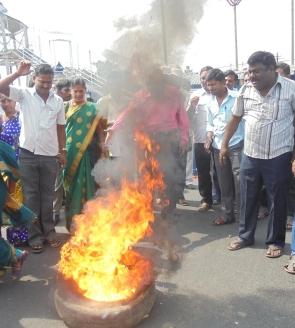 The Congress has not found the answers to many niggling questions on Telangana, but the party has already chalked out a political game-plan in the new state, says a correspondent in Delhi
The Congress-led United Progressive Alliance is leaving many a pertinent questions -- about the formation of Telangana -- unanswered.
The UPA's Group of Ministers on Telangana, headed by Home Minister Sushilkumar Shinde, has deliberated on these questions but not found any concrete answers.
Will the Andhra Pradesh assembly be kept under suspended animation for five months?
Will elections to the Seema-Andhra assembly and Telangana assembly be held in August 2014?
Will the Centre recommend to the Election Commission not to hold assembly elections for Seema-Andhra and Telangana, along with the Lok Sabha poll, in April 2014?
Which city will be the capital of Seema-Andhra?
Where will be the Seema-Andhra high court be located?
Who will be the governor of Seema-Andhra?
Who will be the governor of Telangana?
When will the Union government appoint the chief secretary and director general of police in Telangana?
When will the Election Commission select the chief electoral officer for Telangana?
The road ahead for the Telangana Bill:
The UPA wants to pass the Telangana Bill in Rajya Sabha by Wednesday evening.
Once the bill is passed, the secretary general of the Rajya Sabha and the secretary general of the Lok Sabha will both certify that the bill has been passed and send it to the President of India via the Union law ministry.
The President is expected to append his consent on February 22.
The Congress's plan of action:
Congress President Sonia Gandhi and vice-president Rahul Gandhi will reach Hyderabad on March 8 to address a huge rally to be attended by, among others, leaders of Telangana and the Telangana Rashtra Samiti.
At the rally, Sonia will approve the formal merger of the TRS with the Andhra Pradesh Congress Committee.
The Congress is hopeful about winning at least 10 Lok Sabha seats in Andhra Pradesh after the TRS-APCC merger.
The Congress is also planning to project TRS chief K Chandrasekhar Rao as the chief minister of Telangana.
Image: A protest against the bifurcation of Andhra Pradesh ' Photograph: SnapsIndia