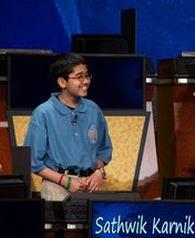 Twelve-year-old Indian origin boy Sathwik Karnik, the winner of the prestigious annual National Geographic Bee, is still too excited to plan for his future, reports Chaya Babu.
"I don't really know yet because I just won this like yesterday or something," twelve-year-old Sathwik Karnik, from KingPhilipRegionalMiddle School in Massachusetts, said regarding his future plans.
He hasn't gotten far enough to think about what's next because of the excitement over coming in first place at the 25th annual National Geographic Bee on May 22 in Washington, D.C.
The young Indian American from Plainville, Massachusetts won a $25,000 (about Rs 13,92,750) college scholarship, a lifetime membership in the National Geographic Society and a trip for two to the Galápagos on an expedition aboard the Lindblad ship National Geographic Endeavour.
Sathwik was surprised at the outcome, even though his elder brother Karthik, now 15, took fifth place at the 2011 Bee and sixth place at the 2012 Bee. "It just felt shocking that I won; I didn't expect to win," he said. "I did this with my brother, and he helped me prep for the nationals and he sort of told me what was to come in the bee and that's exactly what came."
The winning question was on that Sathwik answered with ease: "Because Earth bulges at the Equator, the point that is farthest from Earth's center is the summit of a peak in Ecuador. Name this peak." The answer was Chimborazo.
"I've been learning about that and I knew that, so it just felt awesome to get it right and to then to know that I won," Sathwik said.
Conrad Oberhaus, who came in second place, also knew the right answer, but Sathwik got all five questions right in their face-off. Conrad had stumbled in naming Baotou as the largest city in China's Inner Mongolia Autonomous Region. While this didn't happen again, it put Sathwik on top and he remained there.
"This is a dream come true for the family," said his father, Vishwanath Karnik. "Our son Karthik started this and he took it far and so it looks like Sathwik finished that journey. We are so proud of them."
The brothers have been studying geography since they were little kids, and Sathwik explained that Karthik's interest in the subject sparked his own curiosity. Together they study atlases and take geography quizzes, challenging each other on tougher and more obscure facts.
Satwhik also credited his involvement in competitions through the North South Foundation for his success. The organisation is a non-profit that encourages children in the United States. of Indian origin to pursue academic excellence by holding contests around spelling, vocabulary, math, essay writing, geography and more. It uses the funds it raises to provide scholarships for children in poverty in India.
"It's been years of work, so I guess it paid off," he said.
The Karniks came to the United States in 2002 from Mangalore, Karnataka, and Vishwanath and his wife Rathma both work in the software industry. Their sons' strong worth ethic and competitive spirit are part of the same set of values that allowed the family to start a life in America.
"I hope for them to succeed and continue pursuing knowledge," Vishwanath said. "I don't have specific ambitions for them, just for them to keep this sincerity in their hard work."
Second-place winner and recipient of a $15,000 college scholarship was 13-year old Conrad Oberhaus, a seventh grader at Daniel Wright Junior High School in Lincolnshire, Ill. Third place and a $10,000 college scholarship went to Georgia's Sanjeev Uppaluri, an 11-year-old fifth-grader at Fulton Sunshine Academy in Roswell outside of Atlanta, GA.
Fourth place and $1,000 went to Akhil Rekulapelli, a 12-year old seventh-grader at StoneHillMiddle School in Ashburn, VA.
Image courtesy: National Geographic