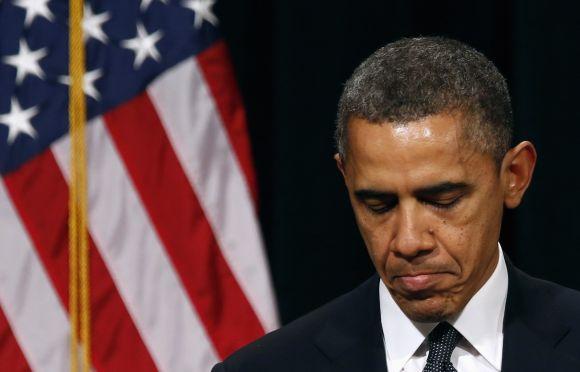 US President Barack Obama on Thursday did not rule out the possibility that the California shooting that killed 14 people was a terrorist act even as he noted that investigators are yet to find the cause of the incident.
Fourteen people were killed and 17 injured in San Bernardino city of California in a mass shooting on Wednesday.
Two of the suspects including one female were shot dead by police in an exchange of gun fire hours later. One of the three suspects has been apprehended.
"At this stage we do not know why this terrible event occurred," Obama told White House pool reporters after a meeting with his national security team in the Oval Office.
It is known that the attackers were "equipped with weapons and appeared to have access to additional weaponry at their homes. But we don't know why they did it," Obama said.
The Federal Bureau of Investigation is carrying out the investigation.
"It is possible this was terrorist-related but we don't know. It's also possible this was workplace-related," said the president.
"What I can assure the American people is we're going to get to the bottom of this and that we are going to be vigilant, as we always are, in getting the facts before we issue any decisive judgments in terms of how this occurred," Obama said.
More broadly, he continued, "we see the prevalence of these kinds of mass shootings in this country and I think so many Americans sometimes feel as if there's nothing we can do about it".
Noting that it is "fortunate" to have law enforcement and military that keeps Americans safe, Obama said "but we can't just leave it to our professionals to deal with the problems of these kinds of horrible killings. Everyone has a part to play".
"It is important for all of us, including our legislatures, to see what we can do to make sure that when individuals decide that they want to do somebody harm, we'll make it a little harder for them to do it because right now, it's just too easy," he said.
"We're going to have to I think search ourselves as a society to make sure that we take some basic steps that make it harder -- not impossible -- but harder for individuals to get access to weapons," said the president.