The Indian Space Research Organisation agency on Friday successfully launched its workhorse rocket Polar Satellite Launch Vehicle carrying 'eye in the sky' Cartosat-2 series satellite -- a dedicated satellite for the defence forces -- and 30 nano satellites into orbit.
IMAGE: Indian Space Research Organisation's PSLV C38, carrying earth observation satellite Cartosat-2 Series and 30 co-passenger satellites of various countries, lifts off from Satish Dhawan Space Center in Sriharikota Photograph: ISRO
The Polar Satellite Launch Vehicle, in its 40th flight, lifted off majestically from the first launch pad, Satish Dhawan Space Centre in Sriharikota at 9.29 am and injected the satellites into orbit about 27 minutes after lift off, amid applause from scientists.
The 44.4 metre tall PSLV-C38 carried the earth observation satellite -- Cartosat-2 series satellite as the primary payload along with 30 co-passenger satellites totally weighing 955 kg.
ISRO said after a flight of 16 minutes the Cartosat-2 series satellite achieved a polar Sun Synchronous Orbit of 505 km inclined at an angle of 97.44 degree to the equator very close to the intended orbit.
Later all the other 30 satellites successfully separated from the PSLV in a predetermined sequence.
After separation of the satellite, the two solar arrays of Cartosat-2 series satellite were deployed automatically and ISRO's Telemetry, Tracking and Command Network at Bengaluru took over the control of the satellite, an ISRO release said.
"In the coming days, the satellite will be brought to its final operational configuration following which it will begin to provide various remote sensing services", it said.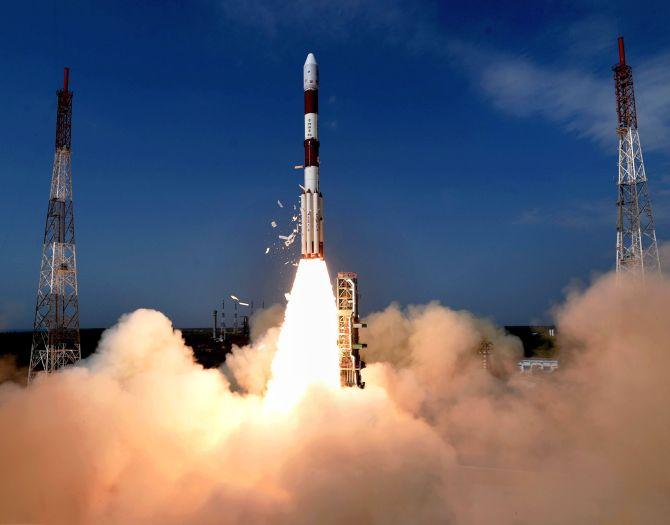 IMAGE: With the launch of the Cartosat-2 series satellite, India's 'eye in the sky' has become sharper with a resolution of 0.6 metres compared to 0.8 in the previous satellite. Photograph: ISRO/PTI
With the launch of the third spacecraft in the Cartosat-2 series, India's 'eye in the sky' is set to become sharper and wider.
The previous satellite in the series had a resolution of 0.8 metres and the images it took on India's neighbourhood had helped New Delhi carry out surgical strikes on seven terror launch pads across the Line of Control last year, according to ISRO sources.
The latest remote sensing satellite has a resolution of 0.6 metres, which means it can spot even smaller objects.
"It can recognise objects within that square (0.6 m by 0.6 m)", an ISRO official said.
"Defence surveillance will get a leg-up. It can be used in identifying terrorist camps and bunkers... some formations," the official said.
Once this satellite becomes operational, it would be "handed over" to the defence forces, which have their own "set up," including ground-stations and trained manpower to access data, the official said.
PSLV-C38 is the 17th flight of PSLV XL configuration (with the use of solid strap-on motors).
The co-passenger satellites includes a nano satellite designed and developed by the Noorul Islam University in Kanyakumari district of Tamil Nadu.
The NIUSAT satellite would provide multi-spectral imagery for agricultural crop monitoring and disaster management support applications.
The other 29 nano satellites are from 14 countries -- Austria, Belgium, Chile, Czech Republic, Finland, France, Germany, Italy, Japan, Latvia, Lithuania, Slovakia, the United Kingdom and the United States of America.
As the satellites were injected into orbit one by one, the scientists broke into cheers at the Mission Control Centre.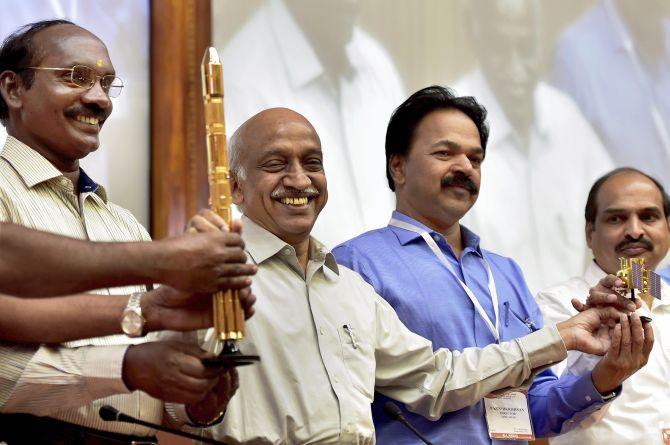 IMAGE: ISRO chairman Kiran Kumar Rao displays the model of the PSLV C38 along with other scientists at a press conference after the launch. Photograph: R Senthil Kumar/PTI Photo
Lauding the scientists, ISRO chairman A S Kiran Kumar said the mission was successful. "I congratulate the hard work of the entire team, especially the Cartosat team. This particular mission has been successful, it has put all the satellites into the orbit," he said.
President Pranab Mukherjee and Prime Minister Narendra Modi hailed ISRO for the successful polar satellite launch carrying 31 satellites.
"Congratulations to ISRO team on the successful launch of PSLV-C38 carrying 31 satellites," Mukherjee said in a tweet.
Modi said in a tweet: "Congratulations to ISRO on its 40th successful Polar satellite launch carrying 31 satellites from 15 countries. You make us proud!"
With Friday's successful launch, the total number of customer satellites from abroad placed in orbit by India's workhorse PSLV reached 209, the release added.
The ISRO had on June 5 launched its most powerful and heaviest geostationary rocket carrying advanced communication satellite GSAT-19, weighing 3,136 kg, from the spaceport. Every stage of the three-stage GSLV MkIII with indigenous cryogenic engine had performed well.
Kumar said the GSAT-19 has reached the designated location and all the payloads have been switched on and it has started performing.
WATCH THE VIDEO HERE:
He said a communication satellite would be launched on June 28 "which will add significant number of transponders to our capacity."
"GSAT-17 is getting launched on June 28 (from French Guiana). We will be working on the replacement satellite for IRNSS-1A. Our plan is to have two Mark-II and two Mark-III launches apart from eight to ten PSLV launches per year," he said.
"Our effort of continuing to provide increased earth observation, navigation as well as communication will continue and we have many more activities to be performed in the coming days," he said.
The space agency said the 29 international customer Nano satellites are being launched as part of the commercial arrangements between Antrix Corporation Limited, commercial arm of ISRO and international customers.
Cartosat-2 is a remote sensing satellite and it is similar in configuration to earlier satellites in the series with the objective of providing high-resolution scene specific spot imagery.
The imagery sent by the satellite would be useful for cartographic applications, urban and rural, coastal land use and regulation, utility management like road network monitoring, water distribution, creation of land use maps, change detection to bring out geographical and man-made features and various other land information system as well as geographical information systems.
Earlier on February 15, ISRO scripted history when the PSLV-37 mission launched 104 satellites into orbit, including a Cartosat-2 series earth observation satellite.