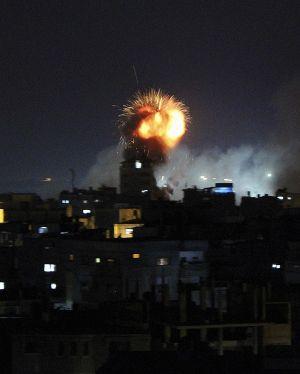 Israel on Sunday resumed its military offensive on Gaza after Hamas militants continued to fire rockets rejecting a 24-hour humanitarian truce requested by the UN as the 20-day conflict killed 1,050 Palestinians and 46 Israelis, including an Indian-origin soldier.
"Following Hamas' incessant rocket fire throughout the humanitarian window, which was agreed upon for the welfare of the civilian population in Gaza, the IDF will now resume its aerial, naval and ground activity in the Gaza Strip," the Israeli Defence Forces said in a statement.
Israel late Saturday night extended by another 24 hours the humanitarian truce announced, but Hamas rejected it saying no ceasefire is valid without Israeli tanks withdrawing from Gaza Strip and continued to fire rockets at Israel.
Israeli cabinet while announcing the truce had said that army will act if it is breached by Palestinian militants.
Hamas said in a statement that "no humanitarian ceasefire is valid without Israeli tanks withdrawing from the Gaza Strip and without residents being able to return to their homes and ambulances carrying bodies being able to freely move around in Gaza".
Hamas fired several rockets at Israel from the Gaza Strip, after the initial 12-hour truce ended.
It also accused Israel of using previous ceasefires to prepare for more attacks and claimed that there had been truce violations.
During the original 12-hour ceasefire, Palestinians, frantically scoured through rubble with medics saying over 130 bodies had been retrieved across the Gaza Strip.
The health ministry in Gaza said 1,050 Palestinians, mostly civilians, have been killed and about 6,000 wounded since Israel launched its Gaza offensive on July 8.
Meanwhile, Israeli military announced the 43th fatality of its 20-day campaign in the Gaza Strip aimed at ending rocket fire against Israel and destroying a sophisticated network of cross-border tunnels. Three Israeli civilians were also killed in the fighting.
Sergeant First Class Barak Refael Degorker, a 27-year-old Indian-origin reservist from the town of Gan Yavne, was severely injured in the mortar fire overnight and later succumbed to his wounds, the Israeli army said.
At least 120,000 Palestinians have been displaced in the current round of violence and about 80 per cent of the casualties have been civilians.
The UNICEF has said that 192 children had been killed during the conflict.
As the death toll continued to rise, foreign ministers from the US, Turkey, Qatar and several European countries urged both sides to extend the truce after their talks in Paris.
No representatives from Israel, Egypt or the Palestinian Authority attended the Paris talks.
US Secretary of State John Kerry also joined talks. Kerry met with Turkish Foreign Minister Ahmet Davutoglu.
Kerry had spent most of last week meeting officials in the Middle East to try to broker a more lasting end to the fighting. But so far, his efforts have born little fruit.
He returned to the United States early Sunday.
"We owe to the people of both Israel and Gaza our renewed effort to consolidate this pause in fighting into a more sustainable ceasefire," UN Secretary General Ban Ki-moon said Saturday in a statement, reiterating his call for seven-day humanitarian cease-fire.
But Hamas officials reiterated their calls for a broader set of terms to be part of any truce.
"There won't been any talks about extending the cease-fire as long as there aren't talks about breaking the siege," said Israa Al-Mudalal of the Gaza Ministry of Foreign Affairs -- referring to Israel's longstanding restrictions on the movements of people and goods in and out of Gaza.
She accused Israel of "escalating the situation" in the so-called buffer zone and of not letting medical workers remove bodies in certain areas.
Photograph: Abed Sha'at/Reuters