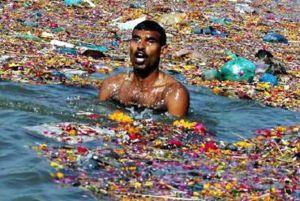 Israel has expressed interest in sharing its expertise on water purification and waste water treatment under Prime Minister Narendra Modi's pet project for cleaning river Ganga.
The Centre had set a target of three years to rejuvenate the polluted holy river Ganga and has formed an integrated plan 'Namaami Gange' in this regard.
"We have already met the Union Water Resources Minister Uma Bharti and the concerned secretary few times, we want to be involved. We offered our knowledge, technology and technical know-how (for the project)," Israel's Head of Economic and Trade Mission Yonatan Ben-Zaken told PTI.
Speaking on sidelines of a seminar on 'Water Security & Waste Water Management', he said Israel is known for its capabilities and expertise in waste water treatment, purification and water reuse for agriculture and industry.
"We are in talks and we think that cleaning industrial pollutants from the river (Ganga) should be first priority," Yonatan said.
Emphasising on the need to make Ganga rejuvenation a mass movement, Modi had on Monday said the first priority of the Namaami Gange mission should be to prevent fresh generation of pollutants.
Modi was chairing the first high level meeting of the mission.
As many as 11 Israeli companies participated at the seminar, which was a B2B (business-to-business) interaction between Israeli and Indian companies.
The companies included Aqwise, Biopetroclean, Amiad, Ayala Aqua and Nisco.
The 25 Indian companies that were invited for the event included L&T, Punj Lloyd, IVRCL, Essar, Engineers India Ltd (EIL), Bharat Heavy Electricals Ltd (BHEL) and National Thermal Power Corporation (NTPC).