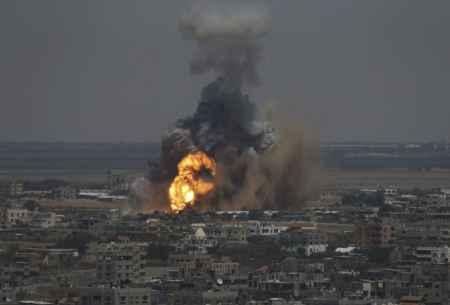 In the worst flare-up in two years, at least 37 Palestinians have been killed as the Israeli military on Wednesday stepped up its offensive pounding Hamas targets in Gaza while almost the whole of Israel came under rocket fire from Palestinian militants
Hamas-ruled Gaza witnessed its bloodiest day since November, 2012 with 24 deaths since last evening, including women and children. More than hundred Palestinians were also injured in Israeli Air Force strikes across the coastal strip which targeted 160 sites, including homes of eight senior Hamas operatives, Muhammad Sinwar and Ra'ed Atar, as efforts to stop rocket attacks on Israel's southern areas intensified.
The Israel Defence Forces said their houses served as Hamas command centres and were used in coordinating the rocket fire on Israel's south. Israeli warplanes also bombed the home of a senior Islamic Jihad militant in Beit Hanoun post-midnight, killing him and five members of his family.
A Gaza health ministry spokesman confirmed that the attack killed Hafiz Hamad and five members of his family. The deaths brought to 28 the number of casualties since the launch of Israel's 'Operation Protective Edge' early on Tuesday, with the Israeli army not ruling out the possibility of a major ground offensive having called 40,000 reservists on duty.
Twenty-four of those killed in Gaza died in air strikes on Tuesday, four Hamas militants were killed staging a beachfront assault on an army base just north of the besieged strip, and nine others were killed just before the start of the operation.
The Israeli offensive intensified after calls from Prime Minister Benjamin Netanyahu to make Hamas pay for their rocket attacks and instructions to the army to "take off the gloves" in dealing with the Islamist faction that has controlled the Gaza Strip since June 2007.
Hamas hit back with long-range rockets that pushed people to the safe shelters in major population centres including Tel Aviv and Jerusalem, which have relatively remained safe from rocket attacks. Hamas also fired four rockets at Tel Aviv, 60 kilometres north of Gaza, setting sirens off across the city. Another rocket fired earlier on Israel's most populous city was shot down by the Iron Dome anti-missile defence system.
Schools and kindergartens in a radius of 40 kilometres from Gaza have been closed on Wednesday and Israeli communities living close to the Gaza border have been advised to stay close to safe shelters.
Residents of Jerusalem were caught off-guard on Tuesday evening as sirens wailed across the HolyCity and three loud explosions were heard and a series of flashes lit the sky.The Israeli police said that one rocket fell in the vicinity of Ramat Raziel, some 10 kilometres from the city's southwestern flank and two more fell in outlying areas, but caused no casualty.

Hamas' armed wing, Ezzedine al-Qassam Brigades, claimed that it had fired fired four M75 rockets at Jerusalem. It also claimed to have launched a rocket at Haifa, 165 kilometres away. There was no confirmation over that claim but an army spokesperson said that a rocket fell in Hadera, about 105 kilometres north of Gaza. Security sources in Israel are of the opinion that Hamas may have succeeded in smuggling about a dozen long-range missiles into the coastal strip.
Palestinian Authority President Mahmoud Abbas has demanded that Israel "immediately stop" its air campaign and has called on the international community to pressurise Tel Aviv to halt its military campaign.
"The Palestinian Authority will go to all international organisations to seek protection for the Palestinian people," he said in a televised statement. Abbas approached Egyptian President Abdel-Fattah al-Sisi to intervene in the escalating violence between Israel and militants in Gaza.
The Palestinian leader said that he has spoken with Hamas leaders, who are interested in a ceasefire. An Egyptian diplomat in the Palestinian Authority said that intensive talks are ongoing but an agreement has yet to be reached.
Meanwhile, Netanyahu has asserted that Israel would "not tolerate the firing of rockets on our cities and towns". "We have therefore significantly expanded our operations against Hamas and the other terrorist organisations in Gaza," a statement from the PMO said.
The Israeli premier's remarks came shortly after the security cabinet approved the call-up of some 40,000 reservists on Tuesday with security officials saying that a major ground offensive could not be ruled out if the rocket attacks from Gaza continued.
Defense Minister Moshe Ya'alon on Wednesday during a security briefing said that the operation against Hamas is to be expanded in the coming days. The Israeli strikes in Gaza have destroyed weapons, terror infrastructure, command centres, Hamas institutions, government buildings and terrorists' homes, Ya'alon claimed.
"We are killing terrorists of different ranks, and this operation will persist and intensify," he said adding, "For our part, this doesn't have to be a short battle. We will continue hitting Hamas and other terrorist groups hard."
Image: Smoke and flames are seen following Israeli air strikes in Rafah in the southern Gaza Strip on Tuesday
Photograph: Ibraheem Abu Mustafa/Reuters