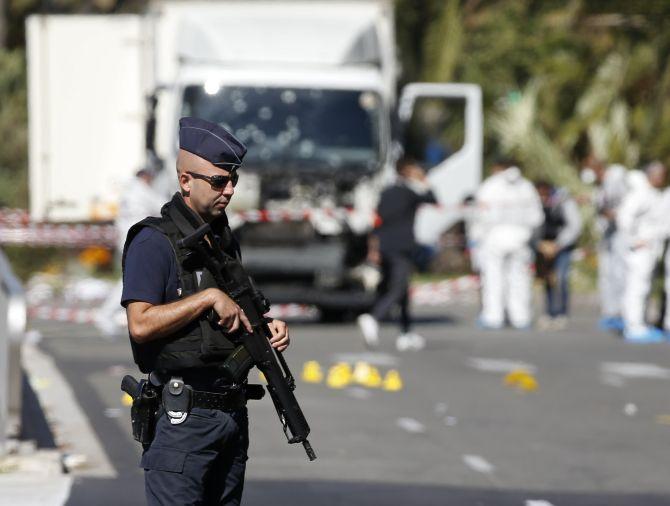 Islamic State terror chiefs have claimed responsibility for the Nice terror attack calling 31-year-old Mohamed Lahouaiej Bouhlel as a 'soldier'.
The ISIS affiliated Amaq news agency posted a statement this morning saying they are to blame for the deaths of the 84 individuals killed by Bouhlel.
'Executor of the deadly operation in Nice, France was a soldier of the Islamic State,' the statement read.
Bouhlel was a petty criminal who hadn't been on the radar of French intelligence services before the attack.
Bouhlel was born in the Tunisian town of Msaken but moved to France years ago and was living in the country legally, working as a delivery driver.
At an apartment bloc in the Quartier des Abattoirs, on the outskirts of Nice, neighbors described the father of three as a volatile man, prone to drinking and womanizing, and in the process of divorcing his wife.
His father said Bouhlel had violent episodes during which "he broke everything he found around him."
"Each time he had a crisis, we took him to the doctor who gave him medication," Mohamed Mondher Lahouaiej Bouhlel told BFM television.
His son hadn't visited Tunisia in four years and hadn't stayed in contact with his family, he said.
"What I know is that he didn't pray, he didn't go to the mosque, he had no ties to religion," said the father, noting that Bouhlel didn't respect the Islamic fasting rituals during the month of Ramadan.
In a news conference on Friday, hours after the attack in which 84 people were killed and 202 were wounded, prosecutors said they had found no links to the Islamic State extremist group.
Bouhlel had had a series of run-ins with the law for threatening behavior, violence and theft over the past six years. In March, he was given a six-month suspended sentence by a Nice court for a road-rage incident.
His court-appointed lawyer, Corentin Delobel, said he observed "no radicalisation whatsoever," and Paris prosecutor Francois Molins said Bouhlel was never placed on a watch list for radicals.
Records show that the 19-metric-ton truck that was rammed through the seaside crowd in Nice was rented in the outskirts of the city on July 11 and was overdue on the night of the attack.
About 25 minutes before the July 14 fireworks show, a popular event that draws hundreds of thousands of people to the Nice seafront each year, Bouhlel climbed into the vehicle and drove toward the city centre.
Shortly after 10:30 pm, he drove onto the Promenade des Anglais that had been closed to traffic for the night.
Witnesses described seeing how Bouhlel purposely steered the truck to hit men, women and children as they tried to flee.