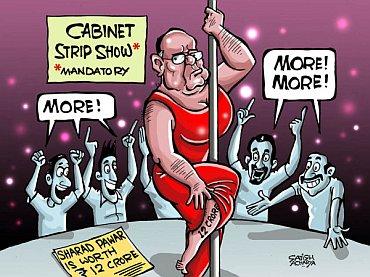 After having asked cartoonist Satish Acharya to remove a cartoon lampooning Nationalist Congress Party Chief Sharad Pawar, the Mumbai police are denying having issued the diktat.
Senior police Inspector Mukund Pawar of Cyber Cell of Mumbai police denied that he or his officers called Acharya for removing the 'obscene' cartoon.
"I am on leave for last four-five days and I do not remember anything about this," said Pawar when rediff.com contacted him on his mobile phone.
On September 5, Mid Day had published Acharya's cartoon which depicts him as a pole dancer, teasing the audience with a red dress that reveals Rs 12 crore written over his calf.
However, no objections were raised when the cartoon was published in the daily tabloid. It was only later when Acharya posted the cartoon on his blog, that he received a call from senior police inspector Pawar.
Acharya who is based in Mangalore, said that officer had indeed called from his cell phone on September 21. Pawar, who had an hour-long conversation with him, first wanted Acharya to visit the crime branch office in Mumbai.
"He said that a person by the name of Abdul Rehman Anjaria, chairman of the advisory council of Delhi's Jama Masjid had sought for removal of the cartoon from his blog. This gentlemen had also registered his comment on the blog by asking me to apologise and have the cartoon removed," said Acharya.
After consulting his journalist friends and colleagues, Acharya heeded to Pawar's request and removed the cartoon from his blog, and saved it in his drafts for future reference.
Pawar called again to confirm the removal of the cartoon and appeared satisfied when Acharya informed him that he had.
The officer had cited section 69 of the Information Technology Act to have the 'obscene' cartoon removed. Section 69 of the IT Act, however, empowers the Central government/State government/ its authorised agency to intercept, monitor or decrypt any information generated, transmitted, received or stored in any computer resource if it is necessary or expedient so to do in the interest of the sovereignty or integrity of India, defence of India, security of the State, friendly relations with foreign States or public order or for preventing incitement to the commission of any cognizable offence or for investigation of any offence.
They can also secure assistance from computer personnel in decrypting data, under penalty of imprisonment.
This was perhaps the first time that Acharya who has been a cartoonist for the last 15 years that the law enforcement machinery has asked him to remove his work.
"Some time ago, Maharashtra Navnirman Sena chief Raj Thackeray had called me to give his opinion of my depiction of legendary singer Lata Mangeshkar with freckles on her face. That was talk between two cartoonists and he was just giving his opinion without being intimidating. On another occasion the Sikh community had objected to his depiction of Prime Minister Dr Manmohan Singh.
Giving insight into the process of cartooning, Acharya says on his blog
I have always loved caricaturing Sharad Pawar. He is one of those politicians, where I don't need to look at a photo while caricaturing. I could draw from memory (some others are Manmohan Singh, Sonia, Lalu, Mulayam, Mamta, Advani, Gadkari, Thackerays (all of them!) etc, etc.
But while doing this cartoon I thought of using his photo for caricaturing him. I guess it came out pretty decent.
I always wondered how Pawar can manage so many roles. As a senior union minister, as an important partner of the United Progressive Alliance, as Board of Control for Cricket in India bigwig, as the International Cricket Council chief, as a Nationalist Congress Party leader ...phew!
And he was in news for all the wrong reasons in different roles. That thought prompted me to this cartoon idea. There is absolutely no formula to get an idea. There is no method too. Your profession trains your mind and sets your thoughts for the right tuning! Really complex!"
The cartoon can now be seen on Acharya's Facebook and Twitter accounts, and has now been viewed 20,000, and it has been re-tweeted 550 times.