Leaders of terror groups thrive on riots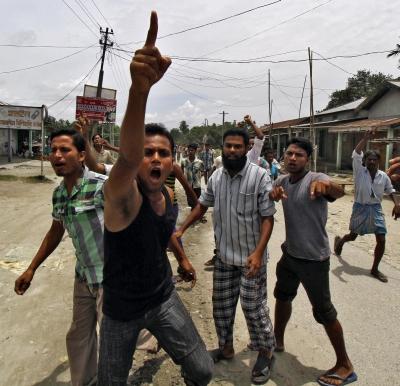 to foster anger and resentment against the majority community among brainwashed youth of the affected community, insiders in security agencies tell Vicky Nanjappa
The Intelligence Bureau and the Union home ministry have dismissed reports about terror group Lashkar-e-Tayiba going on a recruiting spree in the riot-affected region of Muzzafarnagar in Uttar Pradesh.
"It shows us in a poor light. If a riot has occurred in September and Lashkar leaders are able to recruit from that region by October, that raises serious questions about our security mechanism. Going by the case studies of various terrorists who took up arms to avenge communal riots, it can be said that terror groups like the Lashkar do not enter the scene immediately. Those affected by riots usually try to go back to their normal lives rather than take up jihad," pointed out an official of the IB.
Terror group Indian Mujahideen, which has often raked up the post-Godhra riots in Gujarat in 2002 as the incident that led to the formation of the terror group, emerged as a formidable force nearly five years after the communal violence in Gujarat.
Sabahuddin Ahmed, one of the accused in the attack on the Indian Institute of Sciences, had claimed that he had struck at the research institute, in 2005, to avenge the demolition of the Babri Masjid in Ayodhya more than a decade ago.
Leaders of terror groups thrive on riots and communal disturbances to foster anger and resentment against the majority community among brainwashed youth of the affected community, pointed out the official.
'Recruiters' of terrorists prey on such self-radicalised and vulnerable men with the help of fundamentalist propaganda, he said.
The controversy about the alleged extremist links of riot victims in Muzzafarnagar was first triggered by comments made by Congress Vice President Rahul Gandhi.
Gandhi had claimed that Pakistan's spy agency Inter Services Intelligence was recruiting cadres from among the angry men who had been forced to flee their homes due to the Muzaffarnagar riots.
While the Intelligence Bureau had sent out an alert on the issue, there was no evidence of the LeT actually making inroads into the relief camps of riot victims.
Terror groups usually cite the 'injustice and unfairness' suffered by the minority community to incite impressionable young men elsewhere.
Those directly affected by the riots have other pressing concerns -- like getting back on their feet and resuming their lives -- to worry about.
Information about Lashkar leaders hunting for new recruits in the relief camps of Muzaffarnagar was first shared by some imams who had been detained by the IB in Delhi.
These imams, said the IB official, had links with extremist organisations and they were trying to carry out an attack in Delhi after setting up a terror module in Haryana.
Shishir Gupta, an expert on internal security, expressed his surprise over such reports, adding, "If the reports are true, then such a move reveals Lashkar's massive and overpowering capabilities."
Image used for representational purpose only