An 18-year-old man was arrested on Saturday in connection with the terror attack on a packed London tube train, the Metropolitan Police said, calling it a "significant" development in the ongoing investigation.
IMAGE: Forensic investigators search on the platform at Parsons Green tube station in London. Photograph: Hannah McKay/Reuters
The man was arrested by Kent Police in the port area of Dover on Saturday morning under the UK's Terrorism Act. He was taken into custody at a local police station and then transferred to a south London police station.
Hours later, counter-terrorism specialist firearms officers began evacuating buildings to search at a particular residential address in Sunbury, Surrey, south-east England.
They said the evacuation was a "precautionary measure" following the first arrest in the investigation into the bombing of the underground train a day earlier.
"We have made a significant arrest in our investigation this morning. Although we are pleased with the progress made, this investigation continues and the threat level remains at critical," said Metropolitan Police Deputy Assistant Commissioner Neil Basu.
At least 30 people were injured during the attack in which an improvised explosive device was detonated on a tube train at Parsons Green underground station during the morning rush hour on Friday.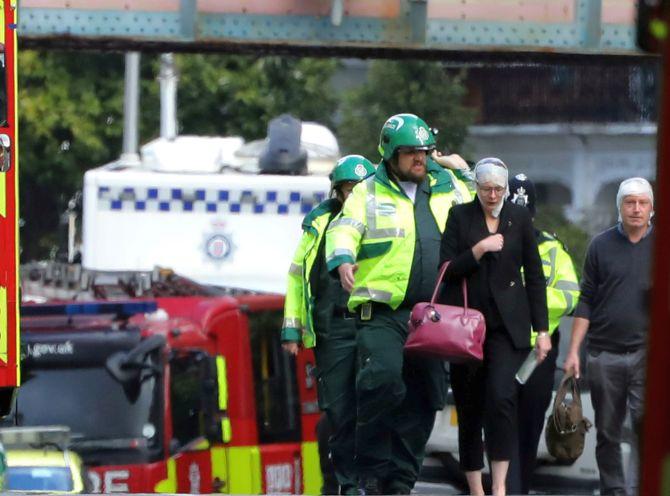 IMAGE: An injured woman is led away after an incident at Parsons Green underground station in London. Photograph: Luke MacGregor/Reuters
Basu, also the UK's Senior National Co-ordinator for Counter Terrorism Policing, seemed to indicate that the force was still on the hunt for further suspects.
"This arrest will lead to more activity from our officers. For strong investigative reasons we will not give any more details on the man we arrested at this stage," he said.
"The public should remain vigilant as our staff, officers and partners continue to work through this complex investigation. We are not, at this time, changing our protective security measures and the steps taken to free up extra armed officers remain in place," he added.
UK security minister Ben Wallace had said earlier on Saturday that there was "potentially a very dangerous individual or individuals out there and we need to track them down."
The Met Police said so far detectives have spoken to 45 witnesses and continue to receive information from the public to the confidential anti-terrorist hotline.
IMAGE: Women and a child pass by a police cordon after the explosion at Parsons Green tube station in London. Photograph: Hannah McKay/Reuters
The Islamic State group has said it was behind the bomb but Met Police's Assistant Commissioner Mark Rowley said it was "very routine" for them to claim the attack, whether in contact with those involved or not.
Announcing the change in the UK threat level on Friday night, Prime Minister Theresa May said the military would provide support to police and would replace officers on guard duty at national infrastructure sites not accessible to the public.
It is part of the first phase of Operation Temperer, activated when the terror threat level reaches its highest possible. "This is a proportionate and sensible step which will provide extra reassurance and protection while the investigation progresses," May said.
UK Home Secretary Amber Rudd chaired a meeting of the emergency response COBRA committee on Saturday to confirm that the terror threat level would remain at critical.
This is the fourth time the UK national terror threat level has been raised to "critical" since the system was made public in 2006. The last time was in May this year following the Manchester Arena bombing, when it was feared that the bomb-maker was still at large and could strike again.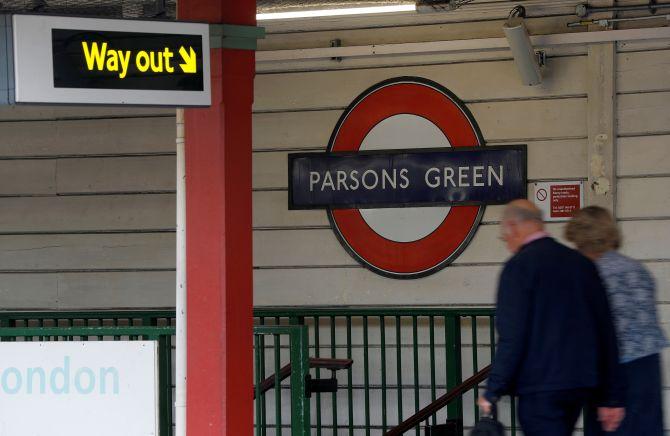 IMAGE: Passengers leave Parson's Green Underground station after it reopened following an explosion on a rush hour train on Friday morning. Photograph: Peter Nicholls/Reuters
May took the decision after the independent Joint Terrorism Assessment Centre recommended raising the threat level to critical -- meaning another attack is expected.
The blast, which is being described as a "bucket bomb", sent a "fireball" through the Tube causing burn injuries to many commuters. The main device, which had been fitted with a crude timer using shop-bought fairy lights, failed to detonate, meaning hundreds of people were spared death and serious injury.
Anti-terror police are understood to be working on the theory that the bomb was detonated early by accident and that the intended target may have been the Tube station at Westminster, near Parliament in central.
Met Police Commissioner Cressida Dick described the attack as "cowardly and indiscriminate" as she joined her forces on the ground on Saturday to patrol the streets on London.
Dick travelled by Tube before joining Met officers patrolling the South Bank of the river Thames to highlight the very visible hike in police presence on the streets of the British capital. "London has not stopped after other terrible attacks and it will not stop after this one," she said.
Mayor of London Sadiq Khan said "significant" police activity would continue over the weekend and thanked police, adding: "They are there to keep us safe".