'There is no emergency of a third wave that we are rushing for booster doses.'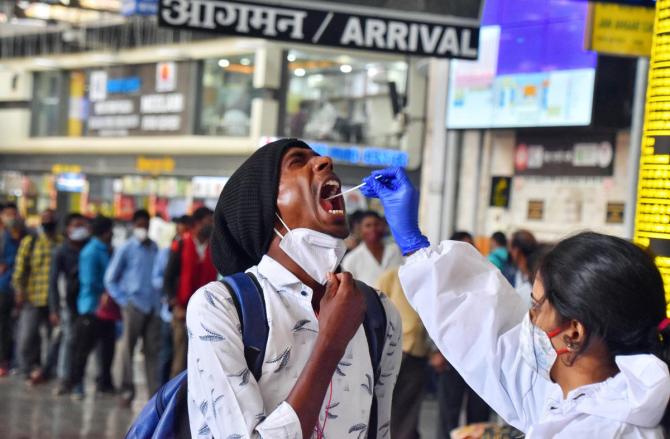 Around this time last year, India was still working out the modalities of how to roll out its Covid vaccination drive even as some countries forged ahead to urgently inoculate their vulnerable population.
Just about a month later, on January 16, 2021, the country launched what would be the world's largest vaccination programme. And now, with more than half its adult population fully vaccinated in less than a year, the conversation has moved to booster shots, with the question being: Should a booster shot (that's the third dose of the vaccine) be given at this point in time?
Meanwhile, nearly 60 countries are already giving a third vaccine dose to their population in the light of two new variants -- Delta and Omicron.
India's stance, in keeping with that of the World Health Organisation, has been to prioritise first and second vaccine doses before thinking of a booster shot.
For many in the scientific community, unless there is evidence to support waning immunity, and not just a fall in antibodies or cases of severe reinfection, the idea of boosters should be kept in abeyance.
"We do not have a cut-off for the antibody titer (measure of the amount or concentration) required for protection," said Dr E Sreekumar, chief scientific officer, Rajiv Gandhi Centre for Biotechnology, Thiruvananthapuram.
"A risk-benefit analysis of an additional dose needs to be done. This also requires clear documentation of AEFI (adverse events following immunisation) in the public domain," he added.
While the government's expert committees are weighing the issue, the Indian SARS-CoV-2 Consortium on Genomics (INSACOG), a multi-laboratory, multi-agency, Pan-India network to monitor genomic variations in the Covid causing virus, came up with this statement in its weekly bulletin dated November 29: 'A booster dose for those 40 years of age and over, first targeting the most high-risk or high-exposure, may be considered.' But it withdrew it a week later.
"Fear of intelligentia is driving the idea of booster doses. Vaccination was to reduce severity and prevent deaths and that is eminently done. Besides, look at any literature, natural infection produces excellent protection," said Dr Jayprakash Muliyil, chairperson of the Scientific Advisory Committee of the Indian Council of Medical Research's National Institute of Epidemiology.
Dr Muliyil was referring to the high rate of infections in India, especially in the Delta-driven second Covid wave, that was reflected in national serosurvey as well.
There are reports of opposing views in the National Technical Advisory Group on Immunisation over the booster dose. Some scientists, if not emphatically, are cautiously in favour of booster doses, though with some riders.
"We will have to do so by evidence and be directed by the understanding of immunology. Booster dose may be required in people with risk of high exposure, comorbidities, or among the elderly," Dr K Srinath Reddy, president, Public Health Foundation of India, said.
INSACOG scientist Dr Anurag Agarwal, in a recent tweet, said that a booster shot seems to help. '...high-risk people receiving inactivated virus vaccines may be prioritised first. Other high-risk and high-exposure next, while ensuring that the global circle of fully vaccinated expands,' he tweeted on December 11.
Hospitals and also some states such as Maharashtra have written to the Centre with the request to allow a booster dose for health workers who were vaccinated early in the year. The Centre itself has told the National Technical Advisory Group on Immunisation that immunity from vaccines lasts up to a year.
This, however, does not take into account the long-term immunity induced through memory cells: T cells and B Cells. But measuring this immunity is difficult, more expensive and time consuming. A study into boosters is being initiated jointly by the ICMR and the National Institute of Epidemiology.
The chorus for booster doses has increased after the detection of the highly mutated Omicron variant, which initial evidence suggests is highly transmissible and has some mutations in common with the Delta variant, which could mean it has immune-escape properties as well.
According to a BBC report quoting UK scientists, two doses of a Covid vaccine are not enough to shield a person from the Omicron variant. 'But a third booster prevents around 75 per cent of people from getting any Covid symptoms,' the report said.
Israel, which is among the countries giving the booster dose, found that there was a decline in antibody levels in people who had received an mRNA vaccine and that the reinfection level went up. The booster campaign in Israel was gradually expanded to persons in younger age groups who had received a second dose at least five months earlier.
India currently does not have an mRNA vaccine. The country's first such vaccine is being developed by Pune-based Genova in collaboration with Seattle-based HDT Biotech Corporation.
The subject expert committee examining Serum Institute of India's application to approve Covishield as a booster has sought more data from the Pune-based vaccine maker.
What do Indian scientists make of decisions taken in favour of booster dose by other countries?
Scientists say the Delta wave hit Western countries many months into their vaccination drive, while in India the second wave hit when vaccination had just about started. Moreover, many feel that the present vaccines will not do much to protect against the current variant of concern (Omicron).
"More of the same vaccine is giving you the same kind of antibody, which these variants can escape. You are not changing the antibody. You can give 10 boosters and the problem will not go away," Dr Sreekumar said.
There is also the question of longevity of a booster dose and how many more will need to be taken as variants keep developing and detected with more genome sequencing.
Some experts also argue that companies sitting on big vaccine stocks are using boosters as a marketing strategy to sell more vaccines rather than develop new ones that will address the variant's immune-escape.
"Repeated immunisation is not good. At least do a limited clinical trial for the third dose... There is no emergency of a third wave that we are rushing for booster doses," Dr Sreekumar said.
Vaccines may not prevent reinfection, but could help avoid severe disease.
"Mild reinfections should not bother us much. We should see if it is leading to severe disease, hospitalisation or death," Dr Reddy said.
While it is early to say with certainty how virulent or dangerous the Omicron variant is, virologists say a virus getting mild is a good sign. Whether Omicron is the last of the variants, we don't know yet.
Dr Reddy believes, "Continually devoting resources to tweak the vaccines and providing more and more boosters is like a dog chasing its tail."
While the jury is still out on boosters, the one word of advice for the moment both from the government and medical experts is: Mask up.