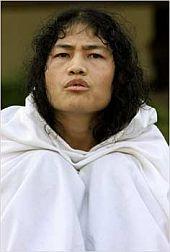 Anti-corruption crusader Anna Hazare has been urged to support the demand for repeal of the controversial Armed Forces Special Powers Act, 1958 by Manipuri social activist Irom Sharmila, who has been on an indefinite fast on the issue for nearly 11 years now.
Hoping that Hazare would visit Imphal to support her struggle, the 'Iron lady of Manipur' said the Gandhian could achieve his goal because of the support of the people.
"I will ultimately become triumphant in my struggle as, I believe, God will certainly find ways to fulfill my dreams," the 37-year-old Sharmila, who has been force fed through a nasal drip for a decade by the authorities, told reporters in Imphal.
She was sent to a hospital ward on Tuesday which has been converted to a jail for her after she was produced before a court that extended her judicial remand for 15 days.
She is produced in court every 15 days for extension of her judicial remand for being force-fed. She began her fast since November 4, 2000, after Assam Rifles personnel allegedly killed 10 persons in an encounter with militants near the Imphal airport.
Under the provisions of the Armed Forces Special Powers Act, a non-commissioned officer or of equivalent rank of the security forces could arrest without a warrant and shoot a suspect, even causing death, in a disturbed area, while enjoying legal immunity for their actions.
Official sources said hundreds of people have been killed in insurgency-related incidents after the enforcement of the AFSPA on September 8, 1980.
They said over 20 militant outfits including seven major ones operate in Manipur with some fighting for an 'independent Manipur'. Manipur merged with the Union in 1949.
Image: Irom Sharmila