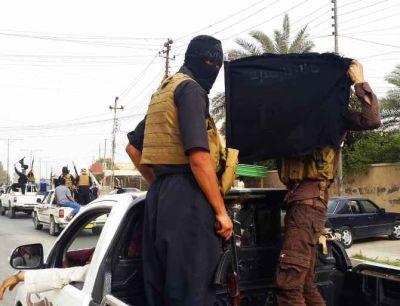 With two Pakistani groups pledging support to the ISIS, the danger is pretty close to India. Vicky Nanjappa/Rediff.com reports
The jihadist group Islamic State in Iraq and the Levant has so far been active only in Iraq and Syria. But the violence may spread to other nations with the outfit's declaration of the caliphate and a global call for jihad.
The loss of a chemical weapons depot to the ISIS, a letter to the United Nations stating that the group has 88 pounds of uranium, and two groups from Pakistan pledging support to the ISIS are reasons of worry for security agencies across the world.
The Iraqi government has reported two incidents to the United Nations. On June 11 the ISIS took control over the Muthanna complex in North Bhagdad. It has been a centre for chemical weapons production and has 2,500 rockets that contain the agent sarin. The Iraq government has also said it cannot fulfil its obligation of destroying those weapons as they have lost control over it.
Experts say the rockets may be defunct, but the government cannot take a chance. Today there are about 2,500 sarin filled chemical rockets and 180 tons of toxic chemical. Experts believe the rockets cannot be used, but the nerve agent is very toxic.
Indian security experts feel the ISIS does not pose an immediate threat to the country but is still a matter of worry. With two Pakistani groups following the ISIS, the danger is pretty close to India.
The Tehreek-Khilafat has said it is ready to help the ISIS in Syria and Iraq and would in turn seek the group's support in Afghanistan and Pakistan.
The Tehreek-Khilafat is a lesser known outfit compared to the Tehrik-e-Taliban, but has some 200 mujahideens with it. Both the groups have said it will support the ISIS since it is not an intelligence agency backed outfit.
Indian agencies say the TK and the TT feel strongly about the Kashmir cause. They believe the Inter-Services Intelligence control over the battle has negated the issue.
Both these groups are ready to send their forces into Kashmir and the support of the ISIS will be significant.
Image: ISIS fighters celebrate on vehicles taken from Iraqi security forces at a street in Mosul. Photographs: Reuters