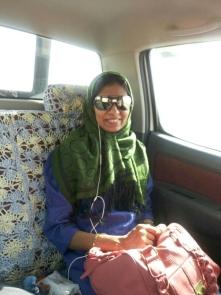 Vicky Nanjappa speaks to some of the forty-six nurses who were held captive by Sunni militant group Islamic State of Iraq and Syria militants in Iraq, and finds that none of them expected to get out of there safe and unharmed
"When we were stranded in the hospital at Tikrit, it seemed like an impossible situation. We never thought we would get out of there. All we heard were gunshots and bombs and never actually understand what was happening," Marina, one of the nurses told rediff.com.
"We did not understand what was happening when around eight people came and told us to get into the bus. Some of us tried to resist and realised it was not worth it. They just told us to get into the bus and not protest," she says.
"But we were surprised when they treated us well. They never spoke rudely. They asked if we wanted water and food. Whether I would return to Iraq is something I haven't thought about yet. I will speak with my family about it," she informs.
"I never once thought that we will get out of this situation," says another nurse. "We were safe and unharmed. Some sustained minor injuries during the transit from the hospital to the bus, but that was not intentional," she says.
For our full coverage on Iraq, click here
"The scenes were horrid but we were kept safe," another nurse says. "When we realised that many from the hospital administration had gone missing, we lost all hope. Earlier, when clashes broke out, we were told that we could leave, but we had to take care of our safety. We decided to stay back and the members of the Iraq Red Crescent assured us that our government will get us out of there soon. We are so relieved and hope that the others who are stuck there will also return safe," she says.
"We do not have any specific comments about the ISIS and would not want to comment on the situation there. They did not harm us, and in fact, hurried us to get out of Tikrit as bombing had begun. As we got into the bus, a bomb exploded, and had we been late, there would have casualties," she adds. Most nurses say that they do not want to get back to Iraq.
"No one is harming Indians there specifically, but if such situation keeps occurring, life is not safe," says another nurse.
Image: Marina, one of the freed nurses.