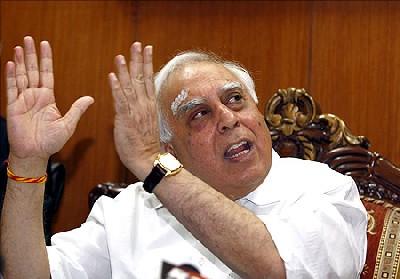 Senior Bharatiya Janata Party leader Smriti Irani on Thursday demanded an explanation from Rahul Gandhi over Congress leader Kapil Sibal's alleged land dealing with a businessman who was investigated by the Central Bureau of Investigation in 2013 for alleged bribery.
Sibal denied the allegations and threatened to file a defamation suit against news website opindia.com, which Irani cited for her allegations.
She also cited a South African media report, which alleged that the businessman, Piyoosh Goyal, was involved in money laundering.
Citing opindia.com, Irani alleged that Sibal and his wife bought a company called Grand Castilo from Goyal in 2017 while the United Progressive Alliance government was investigating the businessman for bribery.
"People might say that Mr Sibal has a right to buy and engage with the so-called alleged money launderer, the question I pose is -- is it politically acceptable to Sri Rahul Gandhi," Irani told reporters in New Delhi.
"Is it so natural for the Congress leadership today to embrace the money launderer, to shake hand with those that they had investigated for bribery," she asked.
The company had no business in financial year 2013-14, and commenced purchase of a piece of land, which eventually cost Rs 45.21 crore, she claimed quoting the same media report.
At a hastily called press conference, Sibal, a former law minister, said that he had bought the land with his own money which was reported in his and his company's income tax filings.
He also termed these allegations as an attempt to divert attention from issues of national importance such as the CBSE paper leak.
The former law minister also threatened to file a defamation suit against opindia.com, but refused to do so against Irani.
"Yes, I brought the the company. Does anyone have objections? I gave the money from my income, which is tax paid and the income tax returns are filed up to date," he told reporters.
Asked about the charges about his dealings with the businessman who was facing a money laundering investigation, he said, 'You ask him all those questions' and ended the conference.
"It is sad that a minister in this government is interested in raising non-issues, rather than the real issues of the people," Sibal said.
"I'm a little saddened that to divert the attention of the people, to the complete lack of application of mind and the utter carelessness of this ministry and government, she instead came out and asked Rahul Gandhi to explain," he said.
Sibal said Irani made the allegations 'without even reading the meaning of money launderer'.
He also said that to his knowledge, there were no proceedings of money laundering against anybody and if there were, the person concerned should be asked about them instead.
Sibal also asked Irani whether she would ask the prime minister 'why he is so close to Mehul bhai, who is a money launderer'.
"Does she ask the prime minister why Nirav Modi is photographed with him in Davos, who is also allegedly a money launderer," he asked.