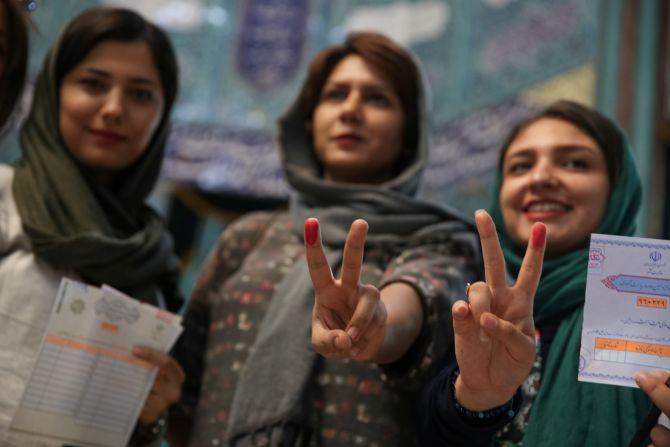 People in Iran are casting their votes on Friday to elect their 12th President. The polls will have huge impact on the country's international ties and foreign policy.
President Hassan Rouhani and hardliner Ebrahim Raisi are the two main contenders who could determine the speed of economic and social reform.
Rouhani faces stiff competition from hardline cleric Raisi, who has positioned himself as a defender of the poor and called for a much tougher line with the West.
Supreme leader Ayatollah Ali Khamenei cast his ballot just minutes after polls opened at 8 am.
"The destiny of the country is in the hand of Iranians," he told reporters as he voted in his compound in Tehran.
The country's powerful 12-member Guardian Council of the Constitution, which has the authority to interpret the Islamic Republic's fundamental law.
The election is viewed as a referendum on the nuclear deal that Iran struck with world powers.
Raisi, custodian of Imam Reza holy shrine, is a hardliner cleric and judge. He is allegedly involved in the 1988 mass execution of thousands of prisoners.
He has the backing of Khomeini. He has pledged to support the poor with a monthly cash payment of $65.
Other candidates in the fray are: Vice President Eshaq Jahangiri, Tehran Mayor Mohammad Baqer Qalibaf, former minister of culture and Islamic guidance Mostafa Mirsalim and former minister of physical education Mostafa Hashemi Taba.
Rouhani is a moderate and seeks re-election on the Iran nuclear deal and reviving the stalled economy.
The Donald Trump administration has signalled that it would continue the Iran nuclear deal made under the Barack Obama administration for the meantime as the United States is still forming a new comprehensive Iran policy.
However, it will also impose some new sanctions against several Iranian individuals and four other organisations, including a China-based network that supplied missile-related items to a key Iranian defense entity, reports the Hill.
"The U.S. and its partners will continue to apply pressure on Iran to protect the human rights and fundamental freedoms for everyone in Iran," said Stuart Jones, the acting assistant secretary of state for near eastern affairs, who will be traveling with President Donald Trump to the Middle East at the end of the week.
Over 56 million Iranians are eligible to vote, according to Ali Asghar Ahmadi, head of the Election Headquarters of the interior ministry.
After the 1979 Islamic Revolution which led to the fall of the Pahlavi regime, Iran has held one election each year on average, all of which have witnessed large turnout of the people.
Raisi says he will stick by the 2015 nuclear deal with world powers, that saw curbs to Iran's atomic programme in exchange for sanctions relief, but he points to the continued economic slump as proof that Rouhani's diplomatic efforts have failed.
IMAGE: Iranian women show their inked fingers after casting their votes during the presidential election in Tehran on Friday. Photograph: Tima via Reuters