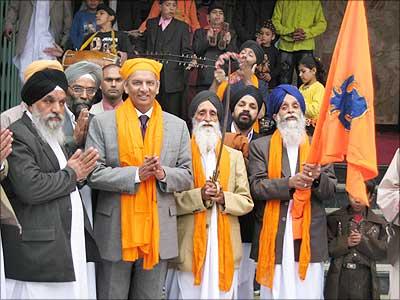 For the second time in the nearly two years that he's been India's ambassador to Afghanistan, Jayant Prasad has been witness to the Indian embassy in Kabul subjected to terror attacks. But he still wears his Indianness like a talisman on his sleeve. Jyoti Malhotra caught up with him in his Kabul home, which looks more like a fortress than a house.
This is the second time in two years that the Indian embassy in Kabul has been attacked. Who do you think is behind this and why?
The message is very clear and simple. We are being attacked by those who are against the friendship between India and Afghanistan.
Who are these people?
I wouldn't like to speculate.
Is the Indian embassy a particular target of terrorists?
It is true there has been a rapid deterioration in the security situation, especially in the last few weeks since the August 20 presidential election. But the NATO forces, the Italians and others have also been attacked.
Would you say the Americans need to put greater pressure on the Pakistanis to crack down on the Taliban and Al Qaeda across the border?
Well, there is no example of effectively dealing with terrorism or insurgency anywhere in the world without ending sustenance and support that comes from the contiguous area.
Stanley McChrystal, the top US commander in Afghanistan, has recently spoken of the need to take action against the Quetta Shura, led by Mullah Omar, which takes refuge in the Pakistani city of Quetta. Your reaction?
The Quetta Shura has the comfort of cohabiting with accommodative hosts, some of whom are part of Pakistan's state structures. There is no intelligence black-hole there. The Quetta Shura is not on the moon. It is in a city that is the capital of a province in a neighbouring country.
Is there any further information on the attack against the Indian embassy in Kabul last year in which Venkat Rao, a diplomat, and Brig. Mehta, an army officer, as well as several Afghans were killed?
I think the provenance of that attack is well known.
The Pakistan army is mounting an operation on South Waziristan, where hardcore insurgents like Sirajuddin Haqqani, accused in last year's Indian embassy bombing, live…
I wish them all possible success. We have been waiting for this for eight years.
McChrystal, while acknowledging India's developmental presence in Afghanistan, has stated that Pakistan will be upset if India continues playing such an active role.
How can one agree that Indian assistance is creating a problem for Pakistan? This is not the objective of Indian assistance to Afghanistan. India's objective is to stabilise Afghanistan. Getting the Afghans to stand on their own feet is good for the Afghan people, good for India and good for the world, including all the regional countries.
Did McChrystal's statement surprise you?
Not in the least. Some elements in the Pakistani leadership present their case in this manner. But we are not in Afghanistan to surround Pakistan in any pincer movement. Moreover, (this is) not the position of the US government…This is what they have said publicly and told us bilaterally.
What do Afghans say about the Taliban-Al Qaeda?
Even today, at least 90 per cent Afghans approve or strongly approve of the foreign presence in Afghanistan and disapprove or strongly disapprove of the Taliban-Al Qaeda presence here.
The impression is that the Afghans want the American troops to leave.
If the international security forces were to withdraw today, it would become very difficult to deal with the Taliban. About 134,000 Afghan army personnel are expected to be in place by 2010, but it is one thing to build the numbers, quite another effort to make them into a fighting force. The army doesn't only fight with infantry weapons, they have to have enablers, a modicum of artillery, they have to be taught the correct battle tactics. They need mobility and aircraft. This will take another 3-5 years at least. Any talk of getting results in Afghanistan in the next 12-18 months is a pipe-dream. Because in Afghanistan, you need patience and perseverance, you need long-term commitment to build Afghan institutions to take charge.
Is there a difference between the Taliban and the Al Qaeda?
The Taliban and Al Qaeda are organisationally different, ideologically not. They have the same support base and agenda but different areas of operation. Indeed, there is a growing fusion of the ideological streams of the terrorist groups that operate under the Al Qaeda umbrella.
Is Afghanistan becoming a battle-ground for India & Pakistan's expanding spheres of influence?
Absolutely not, we are not in competition for Afghan goodwill. India has been an old friend of Afghanistan and we have been able to nurture that friendship in the years since 2001.
Why is there such huge resentment here against foreigners?
Some Afghans have begun to believe that the foreigners are here for their own purposes and that most of the money that is spent here is siphoned away by way of contractors' profits or consultants' fees.
How does India take forward its policy in Afghanistan?
Our partnership stretches from Badakhshan in the north to Kandahar in the south. We are not involved in the internal politics of Afghanistan. Both Indians and Afghans live in a difficult neighbourhood, bristling with terrorism and insurgencies. Also, in my 33 years in the Indian Foreign Service, this is the first time I have been in a country where Indians are appreciated simply for being Indian. And that is a very good feeling.
Image: Jayant Prasad at the Kabul gurdwara. A file picture.