While I&B Minister Manish Tewari seems desperate for the Chandigarh Lok Sabha seat, the Congress leadership is having a tough time fielding the right candidates. Anita Katyal reports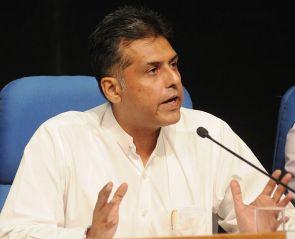 The Congress is witnessing an intense internal battle as Information and Broadcasting Minister Manish Tewari is going all out to capture the Chandigarh Lok Sabha seat from his bete noire, former Railway minister Pawan Kumar Bansal.
Tewari, a sitting MP from Ludhiana, wants to move out of this constituency as he is not sure of retaining his seat.
He is eyeing the relatively-safer Chandigarh constituency, presently represented by Bansal.
Tewari has been trying to dislodge Bansal by impressing upon party vice-president Rahul Gandhi about the perils of fielding tainted leaders. Bansal had to step down as Railway minister last year following a bribery scandal.
The names for both the Ludhiana and Chandigarh seats did not figure in the Congress party's first list of 194 Lok Sabha candidates released last Saturday.
Even as the party is yet to take a final decision on these two seats, Tewari has stepped up pressure on the leadership to press his case for the Chandigarh seat.
His desperation was evident when he told media persons on Monday that the party should not give ticket to tainted leaders. "Congress should not get into legalities and instead not give tickets to those who are facing even allegations of corruption," he said.
This was seen as an obvious reference to Bansal as Congress leaders pushing for the former rail minister's candidature from Chandigarh have argued that the latter had not been convicted.
Tewari has reason to be worried as Ludhiana is set for a tough electoral battle. The Aam Aadmi Party has fielded well-known advocate H S Phoolka, who has been working on the anti-Sikh riot cases, while the ruling Shiromani Akali Dal has named its young Dakha MLA Manpreet Singh Ayali as its candidate for the Ludhiana seat.
While the 39-year-old Akali candidate is known to be an aggressive campaigner, Phoolka's untiring and persistent involvement in the anti-Sikh riot cases has won him many admirers in the Sikh community. The 1984 riots returned to the political centre stage after Congress Vice-president Rahul Gandhi refused to proffer an apology on behalf of the party in an interview.
The battle for the Ludhiana seat has further intensified with the entry of independent legislators Balwinder Singh Bains and younger brother Simarjit Singh Bains, who had sought tickets from the Akali Dal. One of them is expected to contest the Ludhiana seat.
Bansal and Tewari's cases are expected to be taken up on Wednesday when the Congress party's central election committee meets to discuss its second list of candidates.
There is no clarity on the fate of scam-tainted Suresh Kalmadi and former Maharashtra chief minister Ashok Chavan, who had to step down following his involvement in the Adarsh Housing scam.
While Kalmadi is on a weak wicket, as he was jailed after being charged in the Commonwealth Games scam, Ashok Chavan's case is not considered to be in the same league as he has not been convicted.
The Congress leadership has a tough task at hand. It would not like to be seen patronising tainted leaders at a time when Rahul Gandhi is being projected as an anti-graft crusader. On the other hand, it cannot ignore the ground reality.
While Bansal is still considered popular in his constituency, Kalmadi wields considerable clout in Pune, while the party needs Ashok Chavan in the Marathwada region as it does not have a Maratha leader after the death of Vilasrao Deshmukh.
While Ashok Chavan's wife is said to be a strong contender for the Nanded seat, the Congress leadership may be forced to give the Pune ticket to a Kalmadi loyalist or else the sitting MP could sabotage the election of the official candidate.
Image: Information and Broadcasting Minister Manish Tewari