The legendary Kohinoor diamond may never return to India. The government on Monday told the Supreme Court that it cannot force the United Kingdom to return the famous jewel to India since it was neither stolen nor forcibly taken away, but gifted to the British.
As the ownership of the rare diamond continues to exercise Indians, here are some interesting facts about it.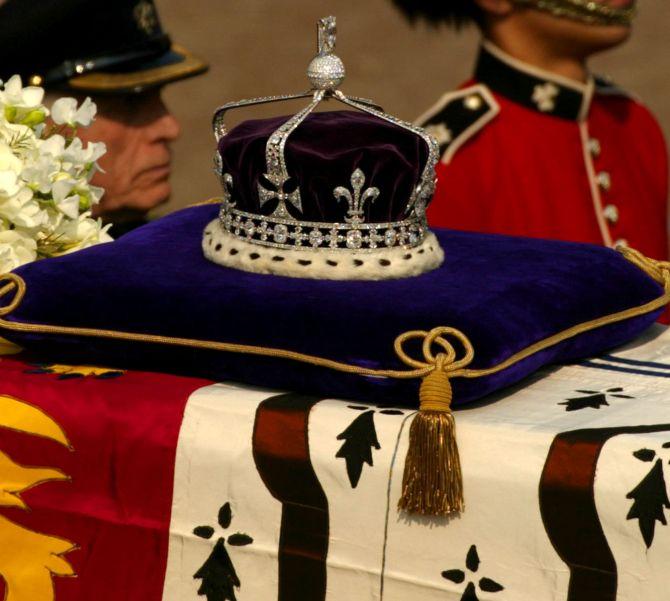 IMAGE:

The Kohinoor diamond in the crown on the coffin bearing the Queen Mother back in 2002. Photograph: Sion Touhig/Getty Images
1) The Kohinoor was mined from the Golconda region of Andhra Pradesh during the Kakatiya dynasty's reign.
2) Originally weighing 793 carats, its weight was subsequently reduced over the centuries after it was cut several times. It now weighs around 105 carats.
3) After the subjugation of Punjab in the Second Sikh War in 1849, Duleep Singh, the last Sikh ruler of Punjab, was ordered by the then governor general of India, Lord Dalhousie, to personally hand over the Kohinoor to the British Queen.
4) In 1852, Queen Victoria decided to reshape the diamond and it was cut down to 108.93 carats.
5) After Queen Victoria's death, the Kohinoor was set in the crown of Queen Alexandra, the wife of Edward VII, that was used at their coronation in 1902. The diamond was transferred to Queen Mary's crown in 1911, and finally to Queen Elizabeth's crown in 1937. When the Queen Mother died in 2002, it was placed on top of her coffin for the lying-in-state and funeral.
6) The diamond is apparently cursed. A Hindu text dating back to 1306, when the Kohinoor's appearance was first recorded, apparently stated that only a woman could wear the stone, and "misfortunes" would befall any male owner.
7) It's not just India which is demanding the return of the Kohinoor. Pakistan, where the diamond is said to have been surrendered last, too has asked for the possession of the precious stone