Main qaidi number saat sau chiyasi jail ki salaakhon se bahar dekhta hoon
Din mahine saalon ko yug mein badalte dekhta hoon
Is mitti se mere bauji ke kheton ki khusboo aati hai
Yeh dhoop meri maati ki thandi chaas yaad dilati hai
Yeh baaruish mere saawan ke jhoolon ko sang sang laati hai
Yeh sardi meri lodi ki aag sek kar jaati hai
Woh kehte hain yeh mera des nahin
Phir kyon mere des jaisa lagta hai?
Woh kehte hai main us jaisa nahin
Phir kyon mujh jaisa woh lagta hai?
Roughly translated, the verse reads:
I, prisoner number 786, look out from behind bars
I have seen days, months, years turn into an age
I can smell my brother's fields here
This sunshine reminds me of my mother's cold curds
This rain reminds me of the monsoons back home
They say this is not my country
Then why does it look like mine?
They say I am not like them
Then why do they look like me?
-- Javed Akhtar in Yash Chopra's Veer Zaara
The National Centre for Modern Art in Mumbai currently features an exhibition by artists from Pakistan. The show -- which features both veiled women and nudes -- highlights the similarities between India and Pakistan and may help change some of our views about the neighbouring country.
It also reflects the diversity in contemporary Pakistan.
Pakistan, it appears, has changed and developed just as much as India has.
Rashid Rana, whose work is on display at the exhibition, is holding a parallel solo show across the street at the Phillips Gallery.
In one of the exhibits, one sees Salman Khan, Shah Rukh Khan and a lovely landscape.
They look like paintings from a distance. When you get closer, you see it is made of innumerable small photographs. The photographs have no connection to the whole picture. They tell their own story. A case where the whole is not the sum of parts. You see two stories. One of the tiny photos. And then the big picture. A novel idea executed brilliantly.
Rana answered Contributing Special Correspondent A Ganesh Nadar's questions by e-mail.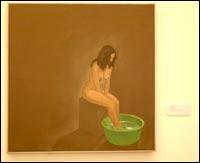 How long have you been painting?
I studied painting at the National College of Arts till 1991. Later, I graduated from the Massachusetts College of Art, Boston, in 1994. I have been participating in professional exhibitions since 1992. 
How successful was your exhibition in Delhi?
I think it was quite successful. I am glad I got good reviews. Especially in Art India, a lot of artists appreciated my work.
Have you exhibited your work in any other country?
Yes, I've been exhibiting internationally for the last 10 years.
How did you like the people in Delhi?
Very friendly and encouraging.
And Mumbai?
Again, very friendly and encouraging. If you ask me, comparing the two cities will be unfair. Both cities are of different types.
Mumbai being a port city and for various other reasons has a different kind of energy. Delhi, because of its subway system, I think, will see a major change in its culture, in times to come.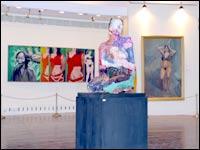 How are the people in these cities when compared with those you have met around the world?
Human beings have more similarities than differences. But people in the sub-continent have more in common with each other than with people of other nations.
For the montage, why did you choose two Indian male stars Shah Rukh and Salman and not any number of beautiful female stars we have?
Time constraints. I could not work on all the ideas I had. Most probably, I will work on other projects, which would involve more subjects from Bollywood.
How come you had nudes in the exhibition in India when they are not accepted in your own country?
I think it would be difficult to generalise how a government or people of a certain country react to images that can be considered obscene.
I think it depends on various factors like time, the government, and individuals. Besides that, censorship anywhere in the world is now a thing of past in this age of information.
It's not true that people don't paint or exhibit nudes in Pakistan. You must have noticed one of the sections, which deals with the subject of the body, at the NGMA.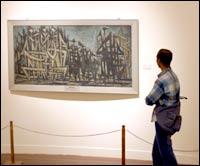 Have you seen Veer Zara?
I have not seen it as yet. I have heard about the story.  But generally I am weary of films that are made about India and Pakistan in both the countries.
I think we should move on, accept each other.
It would be great if Pakistan and India have a relationship similar to the one between the United States and Canada. People should have the freedom to travel back and forth easily.
Did you enjoy your stay in India?
Definitely
Anything else you would like to tell our readers?
Try to visit Pakistan and give us a chance to return your hospitality.
Photographs: Jewella C Miranda | Headline Image: Rahil Shaikh
The exhibition at the National Gallery of Modern Art will continue till March 17