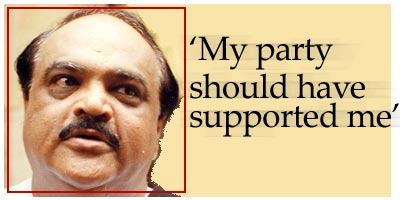 The waiting room in former Maharashtra deputy chief minister Chhagan Bhujbal's sprawling seaside home, Ramtek, in south Mumbai is deserted. The drizzle outside adds to the downcast mood in the room.
Four portraits -- of Babasaheb Ambedkar, Mahatma Jyotiba Phule, Shahu Maharaj and Savitribai Phule -- framed in shiny, golden metal stand out on the white walls. Can't remember if the portraits had adorned the walls on February 3, 2003, when rediff.com last met him. Either way, they are the faces of Bhujbal's new image, that of a leader of the Other Backward Classes.
This is in a stark contrast to February 3, 2003. He was the undisputed No 2 in the Nationalist Congress Party, which had helped him beat several veterans to the post of deputy chief minister. The room was then overflowing with people -- petitioners, party workers, politicians, bureaucrats, police officers from the prestigious state home department, which he headed.
A lot has changed since then. Most of it due to a man called Abdul Karim Telgi and the fake stamps scam, which has blighted Mumbai's police force like nothing else ever had before. Some of its top officers are in jail.
Bhujbal had to quit the ministry. Though an attack on a television channel's office was the reason given for his resignation, very few people believe politicians would let go of power so easily.
Even within the party, things have become difficult. The buzz is that the Maratha lobby within the NCP is out to fix Bhujbal, who hails from the OBC Mali community. He has been sulking and refusing to attend party meetings.
Word is that the fiery orator, perhaps the only one who can match Shiv Sena chief Bal Thackeray in Maharashtra, has made up his mind to quit the NCP. His decision, many believe, would be made public when his Samata Parishad – set up to fight for the rights of backward classes -- holds a rally in Nagpur.
After a 15-minute wait, we are sitting with Bhujbal in his sparsely done guest room. The operator is told to hold all calls while the ringing of the cell phone is ignored. Excerpts from an exclusive interview with News Editor Pankaj Upadhyaya and Senior Correspondent Vijay Singh:
A few months back you said you made two big mistakes in your political career? Would you elaborate?
I do not want to elaborate. I stand by what I said. That is it.
Were you referring to 1991 [when you split the Shiv Sena and joined the Congress] and 1999 [when you quit the Congress to join the NCP]?
I don't want to comment on that. Those who can read between the lines know what I meant.
What about reports that you have made up your mind to quit the NCP?
I have not said anything of that sort.
Then is the report in a Marathi newspaper not true...?
I have seen the report... it's their opinion. I have not said so. They simply asked me if I am not happy in this party [NCP] or something of that sort. Naturally... how can you expect me [to be happy]? For eight months, I have been sitting at home with this stigma [of the stamp scam] on my head without any justification.
On the contrary, I was responsible for smashing the racket. The raid on the presses [where the fake stamps were printed], seizing the positives, negatives... the raid on the houses [of the suspects].
Everything happened when I was the home minister. My [police] officers left no stone unturned to smash the racket. Unfortunately, some of them made the mistake of keeping this man [Telgi] out of jail [even though he was in police custody]. That was a big, big mistake for which a number of people had to suffer, including me, leading to my resignation.
Who is your anger directed at? The media, your (police) officers or your party?
At one point of time, it [the stamp scam] was blown out of proportion. Some people were behaving as if they had taken a supari, you know, a contract [to get me out of the ministry].
The Opposition leaders, it is their job. Let them do anything. I used to criticise them. As Opposition leader, I was responsible for bring down their [Shiv Sena-Bharatiya Janata Party] government in 1999. So naturally, they will also attack me. I don't blame them.
But my own people should think: why is the Sena-BJP targeting Bhujbal alone? Why not other people? Because I fought against them as leader of the Opposition and then as the home minister. Unless you fight them, you cannot defeat the Sena-BJP. You have to speak against them.
They even attacked my house when I was leader of the Opposition [a cabinet-level post]. They ransacked my house. They tried to kill me. I was very much in the house [when the attack took place]. Fortunately, thank god, I was saved.
Why should they do all this? Because I was a vocal opponent. My people should understand that it is but natural for them to attack Bhujbal. But they don't.
Agreed, there are forces within the party working against you. How long will you tolerate this?
Every party has some level of factionalism. In any party, there will always be some people against you. I can't change a party for this reason alone otherwise I will probably be changing parties 10 times in a year. I will think of taking such a step when the water rises up to the neck.
The Opposition targeted you in a big way at the Nagpur session of the state assembly in December 2003. At that time there was very little support coming your way from both the NCP and the Congress. Did that hurt?
[Pauses to think] Some people have always stood by me. Congressmen, Congress MLAs, especially the youngsters, and a few youngsters from the NCP stood by me. But the senior leaders [smirks]...
In an interview a day before the voting in Baramati in the last general election, NCP chief Sharad Pawar was asked if you have been sidelined in party affairs. He denied the charge and said you campaigned all over the state and that you did very, very well. Is it that the party started ignoring you once the election was over?
No. Those two, three months [before the general election] were crucial. But it was not possible for me then to devote much time to party activities because of the SIT [Special Investigation Team] inquiry [into the stamp scam]. It was being used against me, so I was keeping quiet, just watching the situation.
At the time of election, they [the NCP leadership] invited me... told me this is not a time for me to sit at home. It's a good opportunity for us to go to the people and explain our side of the story.
Pawarsaheb also said it is a good opportunity for me to go all around the state. I went. Though I was not able to devote much time [because] I did not have access to a helicopter all the time, I addressed about 70, 80 meetings. The party benefited in all the places where I campaigned.
Are you saying you were used by the party when it needed you and then discarded?
That is not want I said.
But isn't it true that you are hurt that the party you worked for is not supporting you when you need it most.
I expect more support from the party in this time of crisis.
Actually, there is no crisis at all. This is all bakwas [rubbish], false statements and allegations. Right from June 7, 2003 when the Pune police carried out the first raid [in connection with the stamp scam], you would see that I was very happy.
I said on the floor of the House that I am proud of my police force. They have done a great job. It is another thing that two, three people made a mistake by keeping Telgi out of jail. This was then used to target the police department.
There were several of allegations. This Gadkari [the leader of the Opposition in the legislative council Nitin Gadkari] said that Rs 20 crore was given to some minister. What happened to that minister? Has the SIT found any truth in this allegation? No.
Then there were allegations regarding my links to Antim Totla. Totla is a friend of my nephew just as he is of Pramod Mahajan's son. He knows Munde too. He knows everyone.
He would come and meet me. How was I to know [about his business]?
There was a probe into his activities. What did it lead to? Nothing.
And then there were allegations against me. I countered them. Nothing came of it.
The thing is that Gote [Anil Gote, Samajwadi Janata Party MLA from Dhule, now in jail in connection with the stamp scam] was a great supporter of the Sena-BJP. He tried to topple my [Democratic Front] government with Telgi's money, of which there is ample proof.
[BJP leader Gopinath] Munde called me asking why I was troubling Gote. He [Munde] admits making the call. Then Gadkari wanted to go to Yerwada jail to talk to Gote. Their links [with Telgi] are well established and yet they are throwing mud at me.
So, at this juncture, I expect my party to be more forceful and vocal about its support for me.
How has the Telgi scam impacted you politically and personally?
Aap dekh rahen hein [You can see]. In 37 years [of public life], if I had wanted to make money, there were many opportunities. I have put many big people in jail. Do you think they did not try to entice me with bribes?
But no, I wanted to give a message to these people. What was the situation in Mumbai before our government was voted to office? Extortion, murders, the business community had observed a black Diwali, Bollywood wanted to move to Hyderabad because of extortion threats. All this was changed in one year.
About Telgi, you can ask this [Deputy Inspector General of Police Subodh] Jaiswal. When he was reporting to me [Later, he became a part of the SIT that was reporting directly to the Bombay high court], I used to tell him: you do this, you do that. I used to guide him.
I also said that Dawood [Ibrahim, the fugitive gangster] will kill three, four… ten people with a bomb, but Telgi will kill 100 crore people of this country by running a parallel economy. He is very khatarnak [dangerous]. These were my words to the police officers. Always.
I have not done anything wrong. But for no fault of mine, I had to suffer. My family had to suffer. Of course, there were people who stood by me, came here and encouraged us to fight the injustice.
So, it's like this -- you suffered because your party did not support you...
[Interrupts] It's not like the party did not support me. It's just that I think they could have done more.
Will you now make the party suffer by non-cooperation?
I don't think the party needs my support... on the contrary...
You were the No 2 in the NCP...
[Continues] On the contrary, I am thinking I am already having this stigma [of Telgi] on my head. If I participate in party activities, the party will suffer... [chuckles]
You said you got a good response when you campaigned for the party in the last general election. Now there is the assembly election in September-October. If you do not campaign, the party will obviously suffer.
I have not said I will not campaign...
But you are staying away from party meetings.
I don't think my contribution is necessary in these type of meetings. If Pawarsaheb says you go to the people, I will go.
What about reports that you are considering joining the Congress or the Bahujan Samaj Party?
My followers are anguished about what happened [to me]. They are angry. They say 'we will do this, we will do that; you join this party, that party.'
Are there any senior leaders from these parties in touch with you?
I don't want to disclose that.
Would there be any new alliance in Maharashtra before the September-October election?
I am no jyotishi [astrologer] to answer this question. I told you I am not actively involved in planning party strategy. This is a question that only party leaders can answer.
As a veteran of Maharashtra politics, how do you read the political situation in the state, especially with the entry of the BSP into the picture?
The BSP has polled substantial votes this time, especially in the Vidarbha region. In some constituencies, where our candidates were defeated by 2,000 to 4,000 votes, the BSP had got 40,000 to 50,000 votes.
If the Congress-NCP takes care of these people [whom the BSP claims to represent], they still can salvage the situation.
Do you see any potential for a party representing backward-class people in Maharashtra considering what happened to the Republican Party of India?
You can never be sure of what will happen next in politics. At one time in Uttar Pradesh, the Congress was very strong and there was no major political party exclusively representing the backward classes. See what is the situation today.
Do the backward classes in Maharashtra have the numbers to be able to have a decisive say in the state's politics?
It is not impossible. Around 52% of the state's population comprises Other Backward Classes. Then there are Scheduled Castes and Scheduled Tribes. Add to that the minorities and the number goes well above 75%.
But in Maharashtra, only Marathas wield power. Were you not removed from the deputy chief minister's post because you are not a Maratha?
Let us not get into that. All I want to say is that just because somebody from a community becomes the chief minister does not mean that all its problems get solved. We need to bring these people into the mainstream. The BSP has rung the warning bell.
Will your caste play a significant role in your political career from here on?
I really don't know. Till date, whatever success I have got, in whichever party I was, including the NCP, was not because of the caste factor.
But sir...
Do you think I was made the deputy chief minister because I was an MLC from the Mali community? No. Because I fought tooth and nail against the Shiv Sena-BJP government. Not because I am a Mali... forget it.
But yes, the community plays a role. Nobody from the Mali community has risen to the cabinet rank. And the Mali community [as far as numbers are concerned] is second only to the Marathas in Maharashtra. They feel happy when one of them makes it big in politics and anguished when he is pulled down and falls.
The BSP has been able to make inroads in Vidarbha because it represents the aspirations of the OBCs. Would that make you change your mind about the caste factor?
I have always been active in taking up issues related to the welfare of the backward classes. I quit the Shiv Sena because of its opposition to the recommendations of the Mandal Commission. 
In the Congress also I played a big role in taking up issues related to OBCs. Mahatma Jyotiba Phule's statue was recently installed in Parliament, we have made attempts to conserve Savitrirao Phule's house and Mahatma Jyotiba Phule's house was dedicated to the nation in the presence of the President. My social organisation -- Samata Parishad -- has been doing a lot of good work.
Who do you consider your mentor in politics?
[Chuckles] Of course, Sharad Pawar.
And how often are you in touch with him these days?
I meet him once in 20 days...
So, you have not been in touch with him for close to...
[Interrupts]...at one point of time, it [my mentor] was Balasaheb Thackeray.  So they are both my mentors. Balasaheb Thackeray is a man of several great qualities. Admitted, he is my political rival, I speak against him, he speaks against me.
But he has made history. To run a party for 37 years is no joke and then to take it to a position where it can form the government. So, those are his qualities. He is also a great cartoonist.
Pawarsaheb has his own qualities. There is no subject that he does not know about -- farmers' issues, those related to industry, labour issues, administration, globalisation -- he studies them thoroughly. Despite his illness [Pawar has been suffering from a swelling in his jaw for several months now], he has been working very hard and still keeps in touch with people. It's amazing.
Can we say then that your mentors were good, but the parties they headed did not quite value your qualities?
No, no, no... there are good people in my party.  But you always want more. Like, I am sure you are happy in your job, but then, you also think how I wish I had better job. That's human psychology.
Has there been a lessening of tensions between you and the Shiv Sena. You are no longer referred to as Lakhoba [a derogatory term] in Saamna [the Shiv Sena's newspaper] and you no longer call Bal Thackeray 'T-Balu'?
[Laughs] I have stopped attacking them, so why should they bother?
Image: Rahil Shaikh