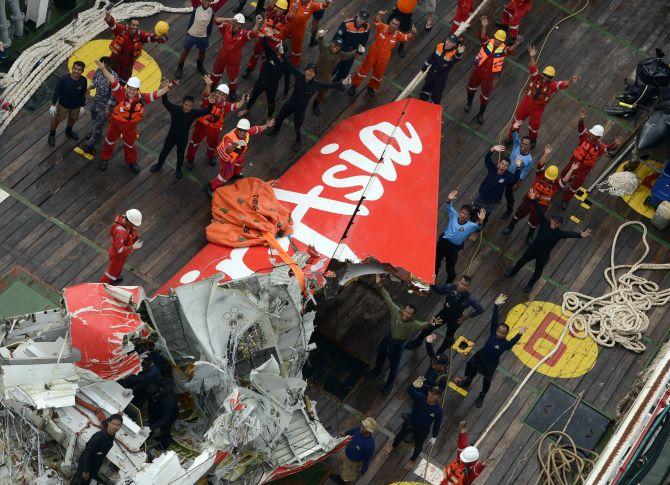 The tail of AirAsia QZ8501 passenger plane is seen on the deck of the Indonesian search and rescue ship Crest Onyx after it was lifted from the sea bed, south of Pangkalan Bun, Central Kalimantan. Photograph: Prasetyo Utomo/Reuters
The crucial black box of the doomed AirAsia jet was on Sunday found in the Java Sea stuck under the debris from the plane's fuselage and will be retrieved on Monday as the major breakthrough in the search raised hopes of unravelling the mystery of the crash soon.
Indonesia's Directorate General of Marine Transport confirmed that the black box of AirAsia Flight QZ8501 has been found. The breakthrough comes exactly two weeks after the flight from Surabaya to Singapore went down with 162 people on board.
Coordinator of the Directorate General of Marine Transport Tonny Budiono said navy divers from Indonesia navy ship KN Jadayat found the black box at a depth of 30 to 32 metres.
The black box is currently wedged between pieces of wreckage making it difficult for divers to retrieve, and because of time constraints, retrieval will take place on Monday morning, said Budiono.
The search crew will attempt to retrieve the black box by moving parts of wreckage to loosen it from where it is currently stuck, and if that fails, the same balloon method used to lift the tail of the plane will be employed, he said.
To facilitate recovery efforts, a marker buoy has been installed at the site where the black box is, Budiono said. The black box was found after strong "pings" were heard in the Java Sea and a large object likely to be the plane's
fuselage was located near the spot from where the tail section was retrieved.
The black box was located amid poor weather conditions which continued to hamper search efforts to locate the wreckage of the Airbus A320-200.
The developments come a day after the tail of the doomed AirAsia jet was lifted out of the choppy waters of the Java Sea using inflatable balloons.
The black box was not found inside the section. The 10-metre-long metal chunk, with the words "AirAsia" clearly visible across it, became the first major wreckage lifted off the seabed.
The recorders are important because they should contain the pilots' final words and possibly various flight data.
Indonesia AirAsia plane lost contact with ground control on December 28, less than half way into a two-hour flight from Indonesia to Singapore and crashed possibly due to bad weather. Only 48 bodies, including at least two strapped to their seats, have been found in the Java Sea.
The Indonesian meteorological agency has said weather was the "triggering factor" for the crash, with ice likely damaging the engines of the plane.