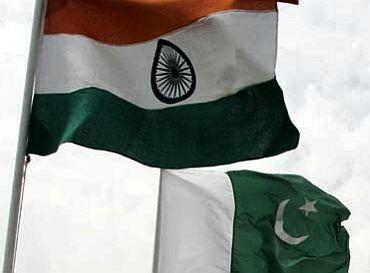 Noting that the Indo-Pak ties "remain tense", the US intelligence chief on Tuesday said India's engagement with Pakistan hinges on Islamabad's willingness to act against those responsible for the Pathankot terror attack.
"Relations between Pakistan and India remain tense despite the resumption of a bilateral dialogue in December," James Clapper, Director of National Intelligence, told the Senate Armed Services Committee during a Congressional hearing.
Following the attack on Pathankot Air Force base in January, which New Delhi blames on Pakistan-based Jaish-e- Mohammad, "India's engagement with Pakistan will probably hinge in 2016 on Islamabad's willingness to take action against those in Pakistan linked to the attack," he said.
Seven security personnel were killed and several others were injured when six militants stormed the Pathankot base.
Clapper also said the Islamic State group has become a prominent threat because of its self-described caliphate in Syria and Iraq, its branches and emerging branches in other countries, and its increasing ability to direct and inspire attacks against a wide range of targets around the world.
IS's narrative supports jihadist recruiting, attracts others to travel to Iraq and Syria, draws individuals and groups to declare allegiance to ISIL, and justifies attacks across the globe.
The IS-directed November 2015 Paris attacks and IS-Sinai's claim of responsibility for the October downing of a Russian airliner in the Sinai underscore these dynamics, he said.
On the other hand, al-Qaida's affiliates have proven resilient and are positioned to make gains in 2016, despite counterterrorism pressure that has largely degraded the network's leadership in Afghanistan and Pakistan, he said.
Although Al Qaeda's presence in Afghanistan and Pakistan has been significantly degraded, it aspires to attack the US and its allies, the American spy master said.
Clapper also warned that Bangladesh Prime Minister Sheikh Hasina's efforts to undermine the political opposition in the country will probably provide openings for transnational terrorist groups to expand their presence there.
He said that Hasina and other government officials have insisted that the killings of foreigners were the work of the Bangladesh Nationalist Party and the Bangladesh Jamaat-e-Islami political parties and are intended to discredit the government.
However, the IS claimed responsibility for 11 high-profile attacks on foreigners and religious minorities.
Other extremists in Bangladesh -- including Ansarullah Bangla Team and al-Qaida in the Indian Subcontinent -- have claimed responsibility for killing at least 11 progressive writers and bloggers in Bangladesh since 2013, he said.