As the Omicron variant of Sars-CoV-2 takes centrestage, vaccine makers in India are of the view that scaling up the existing vaccines to make them more effective is possible.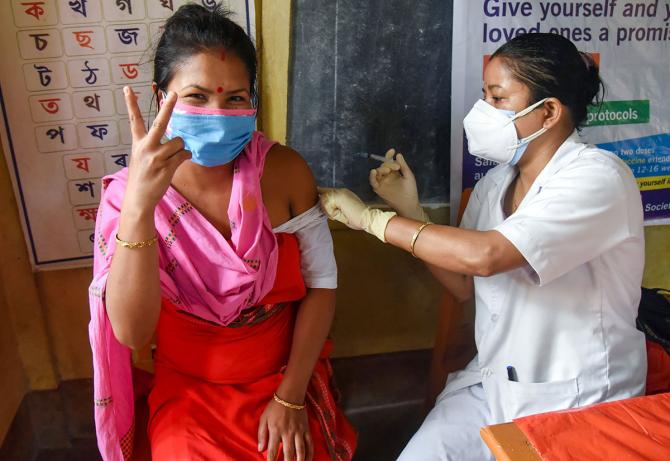 Ahmedabad-based Zydus Cadila is making a DNA vaccine using the Omicron sequence, but will not immediately take it to the clinic.
Serum Institute of India (SII) Chief Executive Officer Adar Poonawalla said: "It is too early to comment on Omicron. Scientists at Oxford University are continuing their research, and based on their findings, we in six months may come up with a vaccine that would act as a booster."
"We will take a call when more is known about the new virus. In the meantime, everyone should get vaccinated with two doses."
Sharvil Patel, managing director, Zydus Cadila, said: "As of now there is not enough data to say that we need a new vaccine to target this variant. We are, however, keeping the construct ready. Unless this strain becomes lethal or serious, there may not be a specific need to develop a new vaccine."
Zydus needs around eight weeks to have a laboratory product or vaccine ready.
"We will not immediately take it to the clinical trial stage. The advantage of RNA or DNA technology platforms is that one can easily replace the sequence and make a new product. So we are continuing our research on that," Patel said.
India is yet to decide on whether it would allow booster doses for its population.
Poonawalla said SII was prepared for boosters.
"Around 200 million doses are available with us for states and Union territories. We are well stocked in case booster shots are allowed," he said.
Apart from the Omicron variant, Zydus Cadila is testing a multi-variant Covid-19 vaccine on animals.
"We have completed our development for almost eight strains of the Sars-Cov-2 virus. We are now doing animal studies to see which of these constructs works the best to neutralise more mutations of Sars-CoV-2. It can be a vaccine construct using one strain or, maybe two strains," Patel had told Business Standard.
Tweaking the DNA-plasmid platform is relatively easy, and takes less time. One needs to just change the sequence of the strains, and the construct of the vaccine, the model, and the process remains the same.
Zydus Cadila's ZyCoV-D, the DNA vaccine, when administered, induces the production of spike protein of the Sars-CoV-2 virus. It is also stable across a wide temperature range, unlike the stringent temperature requirements for mRNA vaccines.
Hyderabad-based vaccine maker Bharat Biotech did not divulge its plans, but said the company was continuing research on new variants.
"Covaxin was developed against the original Wuhan variant. It has shown that it can work against other variants, including the Delta variant. We continue to research new variants," the company said.
Global vaccine makers too have spoken about their plans for Omicron.
Pfizer, for example, has said it has started working on a version of its Covid vaccine, specifically targeting the new Omicron variant, in case the current inoculation is not effective for the latest strain. It has begun testing the current vaccine for the Omicron strain.
Moderna too has said it is developing a booster shot for the new variant.