'Increasing Indian influence meant "people here in Washington DC, in Brussels, in London or other world capitals don't talk about Kashmir".'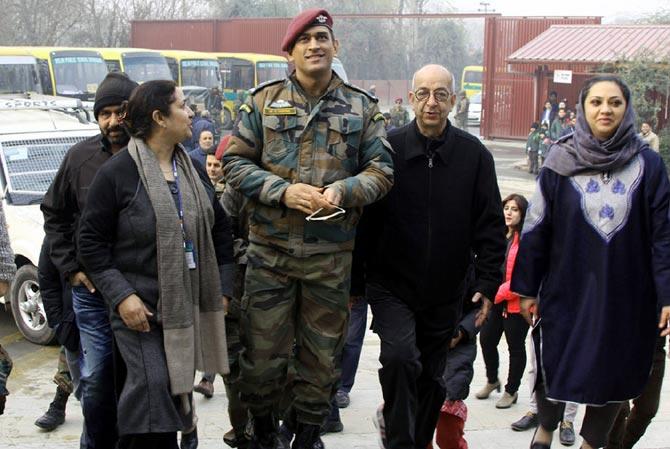 India's influence and economic power means countries are unwilling to raise the issue of Kashmir at the international level, including the United Nations, complains a former Pakistani diplomat.
Masood Khan, Pakistan's former ambassador to the UN, is now the president of Pakistan occupied Kashmir.
Khan is currently in Washington for what he described as part of his effort to apprise the international community about the current situation in Kashmir.
"India has strategic alliances with certain countries. Because of the lucrative deals that it offers powerful countries in the West, it has practically imposed a gag order on Kashmir," Khan said in response to a question at the Atlantic Council, an American think-tank, on Monday.
Increasing Indian influence meant "people here (in Washington DC), in Brussels, in London or other world capitals don't talk about Kashmir," Khan said, "because this would have consequences for these countries, like in terms of economic transactions, and strategic costs."
"The United Nations is not acting because of real politics," Khan said.
"The Security Council, first because of Cold War dynamics, and now because of a number of other factors is not taking cognisance of the Jammu and Kashmir dispute which is regrettable because of the mandate that is given to the security council by the UN charter under Chapter 6 and Chapter 7," the former Pakistani diplomat told the thinly attended event.
The UN, Khan argued, "should be proactive. It's because of real politics. It is also because of two other factors."
"One was that in the past 30 to 40 years, India and Pakistan have invested a lot of energy and time in bilateral talks. But these bilateral talks or dialogue have proved to be a mirage for Kashmiris because it has produced no results," he said, adding that these talks have been non-productive.
Because of these talks, he added, India has "acquired two vetoes".
India has reduced the core issue of Jammu and Kashmir to a fraction of the agenda for talks between India and Pakistan. J&K is one of 10 items on the agenda, he added.
Second, India has the veto over the timetable. "They will start negotiations when it suites them and when they don't like it they will blame Pakistan for terrorism."
"And that has scuttled the dialogue process," Khan said, making the preposterous claim that there are no terrorist camps in PoK.
"None whatsoever," PoK's president said during the interaction.
"This is in fact propaganda against the Kashmiris, intended to demonise them," he said.
"India has fenced the Line of Control. There are two layers of the fence. In between, there are landmines," he added. "There are motion sensors. They also have electronic surveillance, thermal imaging."
"If any crossing takes place, it would be detected."
IMAGE: India cricket legend Mahendra Singh Dhoni in Srinagar, November 28, 2017, where he interacted with students at the Delhi Public School. Photograph: Umar Ganie for Rediff.com