To curb pollution, the Mysuru corporation has launched a bicycle-sharing initiative, reports Apurva Venkat.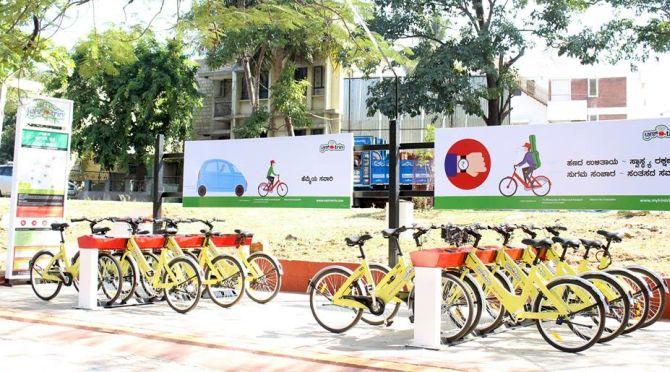 The southern city of Mysuru is turning to bicycle sharing to cut pollution as it looks to retain its tag as India's cleanest city. Trin Trin, an initiative thought up by the city corporation will look to rent bikes to commuters and travellers to get around cleanly and in a lot more fun way.
The city has purchased about 430 bicycles that will be parked at any of the 52 docking stations at prominent locations for people to rent on an hourly basis. Users will have to register for a smart card online and preload it with money in order to utilise the service with weekly, monthly and yearly subscriptions available.
"The idea is to encourage more people and tourist to use bicycle. It is cheap and environmentally friendly. Mysore is already India's cleanest city. To keep that titile, this is one more step we have taken, "said, V J Ravikumar, Mayor of Mysore. The formal inauguration of the initiative will be done in the next two months.
With an estimated cost of Rs 20.5 crore, which is being funded by the World Bank's Global Environment Facility Grant, the city wants to replicate a model that has been successful in other global cities.
The scale might not be huge, but Mysuru's authorities are looking to reach a large number of people through incentivising people to take short trips. Trin Trin is being marketed as a perfect way to visit the city's many tourist attractions in a more fun and sustainable way.
"We want to promote more people to use the cycles that is the reason we have kept first 30 minutes free. Also since it is a shared system, we have increased the rate for longer hours. We want people to switch cycles in case they have halts so that there is distribution of cycles in the docks," added Ravikumar.
Despite Mysuru's traffic being far less congested than its neighbouring Bengaluru, the city has already begun working on ways to cut pollution and free up space on roads. The name Trin Trin was selected to bring back memories from an old Mysuru that had an abundance of cycles with the sound of their peculiar horns being heard all around.
Keeping with the idea of getting tourists to go green, at Chamundi Hill, one of the most visited tourist spots in the city, will get 20 multi speed and 5 electric bicycles so that tourists can ditch the autorickshaws and taxis that usually make the trip.
The cycles for the project are being manufactured by a local vendor, Green Wheel Ride. The company says it will wait to see user preferences and then gauge whether it should add more geared cycles or electric ones to expand Trin Trin in Mysuru.
"The response for the initial trials have been very positive. This is not only the first time such a project is being carried out in India but also in Asia. We are very happy that we are a part of it," said Mahesh Gowda, managing director, Green Wheel Ride.
Photograph: Trin Trin/Facebook