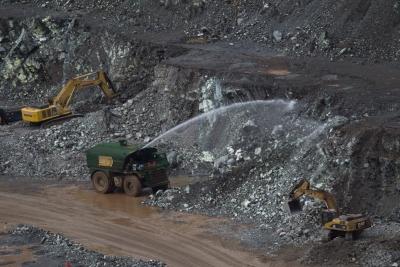 India has become the world's second largest market of asbestos as the government backed by powerful corporate lobby turns a blind eye to diseases related to the use of the hazardous chemical

Banned or restricted in more than 50 countries, white chrysotile asbestos is used in India widely. Though it is listed as a hazardous chemical not much has been done to check its use, despite awareness about deaths from asbestos-related cancers. If anything the supply has only gone up.
The figures are shocking. In India, import of asbestos rose from 253,382 tonnes in 2006 to 473,240 in 2012, a steep increase of 186 per cent in six years.
On Tuesday and Wednesday, the global asbestos industry is holding a conference in New Delhi co-organised by the International Chrysotile Association and Asbestos Cement Products Manufacturers Association, India. The presence of Indian government dignitaries will demonstrate which officials act as impediment to ban white chrysotile asbestos in India to safeguard public health.
Their presence will illustrate who compelled the Indian delegation to take a ridiculous stand at the United Nations Rotterdam Convention.
India opposed the listing of chrysotile asbestos under Annex III of the Rotterdam Convention at the sixth meeting of Conference of Parties on May 8 in Geneva. Substances listed under Annex III of the Convention -- a global treaty to promote shared responsibilities in relation to import of hazardous chemicals -- require exporting countries to advise importing countries about the toxicity of the substances so that importers can give their prior informed consent for trade. The convention does not ban or limit trade in such hazardous substances.
The Rotterdam Convention on the Prior Informed Consent Procedure for Certain Hazardous Chemicals and Pesticides in International Trade is aimed at helping developing countries in managing potentially hazardous chemicals imported by them.
During the fifth Conference of Parties in June 2011, the Indian delegation had agreed to the listing of chrysotile asbestos in the PIC list, but later took a U-turn.
The Indian delegation at the UN meeting belittled India's stature by citing an admittedly tainted and grossly conflict of interest ridden scientific study that was finalised after discussions with vested corporate interests.
A letter from the Union Ministry of Environment and Forests reveals that the Indian delegation led by of Ajay Tyagi currently chairman, Central Pollution Control Board was misguided by a note of the Department of Chemicals and Petrochemicals, Union Ministry of Chemicals and Fertilizers to misrepresent Government of India's position on hazardous substance chrysotile asbestos at the Sixth Conference of Parties of UN's Rotterdam Convention on the Prior Informed Consent Procedure for Certain Hazardous Chemicals and Pesticides in International Trade held in Switzerland.
Indian delegation's position was inconsistent with domestic laws, which lists asbestos as a hazardous substance. Notably, ACPMA which accompanied the delegation is facing a probe by Competition Commission of India after a reference from the serious fraud investigation office
In keeping with Indian laws when the UN's Chemical Review Committee of Rotterdam Convention recommended listing of white chrysotile asbestos as hazardous substance, it is incomprehensible as to why Indian delegation opposed its inclusion in the UN list. The only explanation appears to be the fact that the Indian delegation did not have a position independent of the asbestos industry's position, which has covered up and denied the scientific evidence that all asbestos can cause disease and death.
Image: A view shows the operations in a mine producing white asbestos in Brazil
Photograph: Ueslei Marcelino/Reuters